Jennifer Logan was a friend of mine for about 30 years. We met in Lemon Cove at the Womans Club (yes, that is the correct spelling); I was taken with her English accent and for some reason, she liked me. She called me "Janner" and referred to herself as "Jennifa", which tickled my fancy.
When my studio first was public, I shared space in a very fine gift shop called "Shirley's Home" in Exeter, before Exeter had murals. Shirley hired someone each year to help us during Christmas, and for a handful of years we had the pleasure of working with Jennifer. It was during one of those times that Jennifer suggested to me that I publish a book of my art, which became The Cabins of Mineral King.
I followed Jennifer to Foothill Fruit in Lemon Cove; the next year after working a temporary job at the Lindcove Field Station, they offered me a full time job, so I recommended Jennifer, who lived around the corner. A few years later, after I finished a temporary job at the Citrus Research Board, Jennifer went full time there.
There were also two years when I needed crutches several times, and Jennifer was always there with a pair for me to borrow. We laughed about it, and sympathized with one another while being thankful it was always for temporary conditions. She didn't mind when I confessed using them to get into the neighbor's swimming pool (only as deep as the top step.)
About five years ago, Jennifer asked me if she could take drawing lessons. I was astonished and delighted. She had done photo retouching and also set-painting in her life, but had a desire to try my style of drawing. It was a pleasure to meet with her each week, to have that regular time together. She began with this peony, which she later came to dislike (we call that "growth"!) (Jennifer, I'm sorry for showing this, but not sorry enough to not show how you increased in skill.)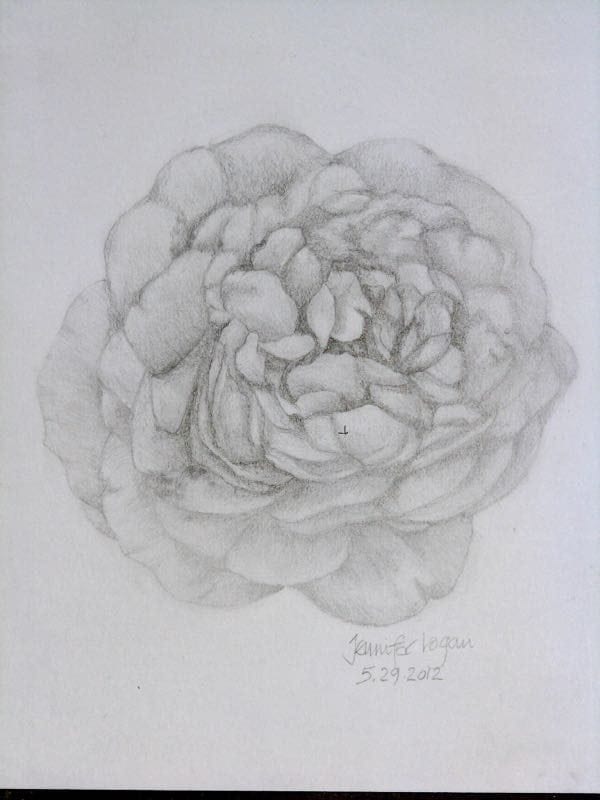 We joked quite a bit about how she chose difficult subjects, working from photos that were too small to see the detail or just plain challenging in other ways. She was always cheerful and sometimes cynical at the same time, which would make us laugh.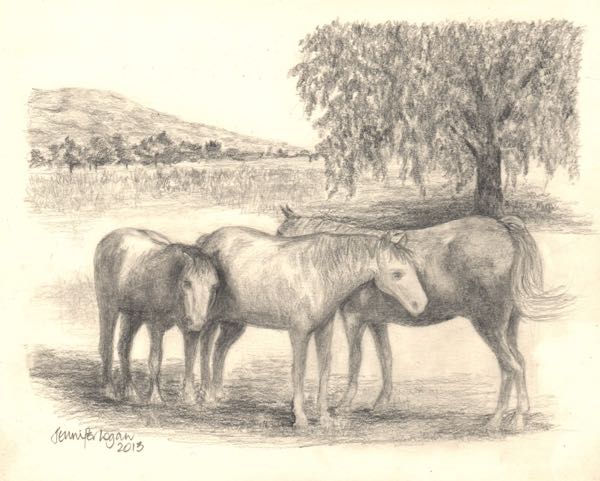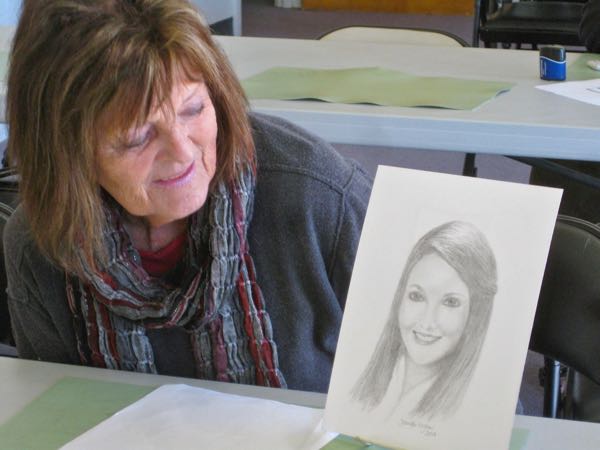 She loved gardening, reading, horses, her dogs and cats, and her grandchildren. This is Anna, and although I haven't met her, Jennifer said she caught the likeness.
Jennifer joined some of the secret oil painting workshops (given just for my drawing students, not open to the general public). She definitely marched to her own drumbeat – when everyone else painted pomegranates, she painted a buoy. When the class painted redwood trees, she painted a cat.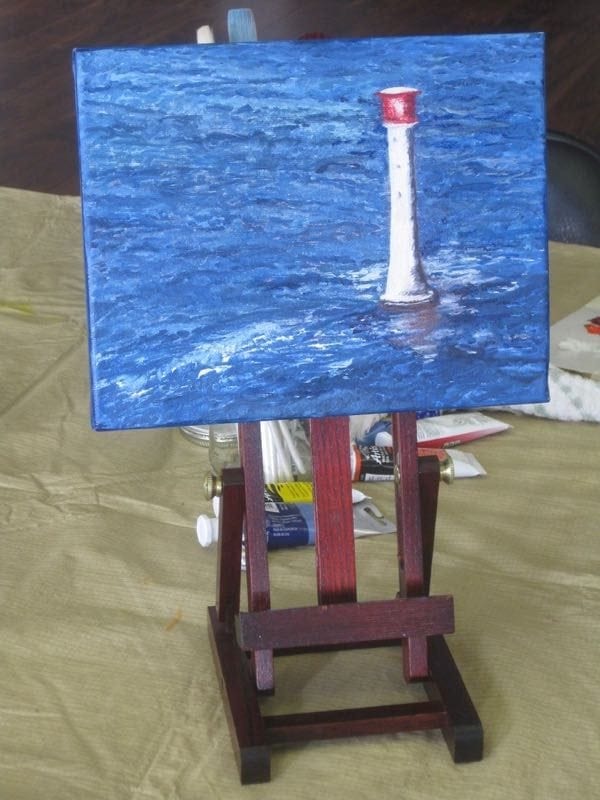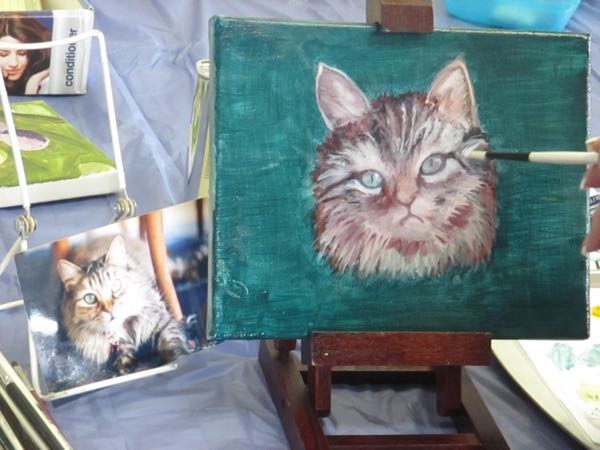 Her drawing classmates bugged her to try a redwood tree in pencil, so that was the project she was currently working on. She referred to it as "wood with leaves" and when I would correct her with, "Needles", she would say, "Whatever". Then we'd look at each other and snicker, and I'd call her a closet tree hugger.
Jennifer was the only person who called Trail Guy "Mikey", and he liked her so much that he just accepted it. My dad used to tease her about her accent and call it "a speech impediment", and she was always gracious with his offbeat sense of humor.
A few months ago, Jennifer surprised me by inviting "Mikey" and me to her upcoming birthday party. For the first time in almost 30 years, she actually told me her age, which was also a surprise. I said, "Jennifer, you could be my mother, and it wouldn't even be a scandal! I had no idea."
On Wednesday, June 7, 2017, Jennifer surprised us all by moving to Heaven. She went quickly with no fuss, no 911 calls, no tubes, no hospital indignities, and no warning.
Jennifer Logan, you were a dear friend and I choose to be grateful for the time we had. "See you, Sweets", as you used to say to me.