Happy Birthday, Robin!!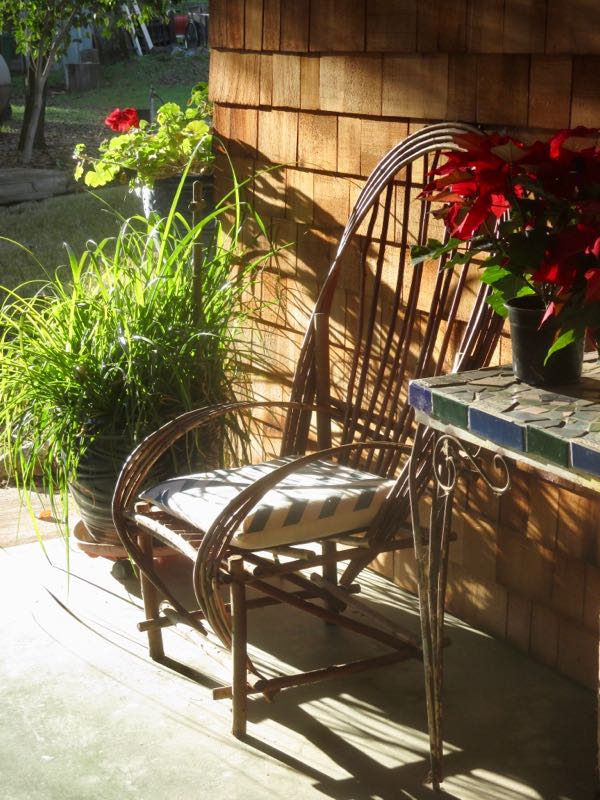 Some of these things are new, and some got relearned.
If you have an indoor/outdoor cat, don't get too attached. Nature is just out your door, and it is brutal and wild. Bye-bye, Samson, the bitey Bengal boy. Still, we think it is better to let a cat be a cat instead of trapping it inside.
If you don't have a cell phone, it is harder to order from Amazon. They want you to sign in, receive a call and then sign in a second time with a code that comes through the phone. This doesn't work when you are at your mom's house, wanting to order something for her. Still, I think it is better to not have a cell phone.
The Blackwing Colors colored pencil set of 12 can be used to obtain almost as many colors (via layering) as either Polychromos or Prismacolor sets of 120 colors. Score another point for simplicity!
There is a very fine upholstery and wood-working shop in downtown Visalia called Quality Upholstering. I'd heard of them because they have been there 40 years!! They do great work with quick turnaround, and are a pleasure to deal with.
Lifesource Water Systems is The Answer To Bad Water from your household tap. Why did we wait so long to deal with the excessive chlorine?? Don and Shelley Lovelace have the franchise in Fresno and they are a pleasure and a delight to work with.
I am more vain than I thought. A stranger referred to me as a "blonde". My hair is brown, but the gray in it was deceptive to the stranger. I thought this would never enter my mind, but I have been considering hiding the gray.
The History Chicks is an excellent way to learn some history. This is a podcast with 2 women telling the stories of various women, just talking as women do. Eavesdrop and learn (and they DON'T CUSS!)
I learned how to make a secret book safe – it was harder than I expected. You can see the instructions here: Little Vintage Cottage.
As a bonus to #8, I learned how to make ModPodge. What is this? It is 1 cup white glue with 1/3 cup water, sold as a specialty craft product, but not at the local hardware store. (We used it in the 1970s to decoupage cut up posters onto grape trays; this was an important decorating skill.)
There is a little battery pack charger thing. . . a friend jump-started my car from this little dealie, which put the stereo in a coma and temporarily disabled the automatic locking system (or maybe that was the dead battery). But, it was so compact and handy! (My amazing mechanic, since 1983, Mark at Foreign Auto Works in Visalia got everything repaired and I got a new battery.)
The definition of middle-aged is 45-65, according to The Google. Who cares? A friend my age (58) and I had quite a discussion about it. She insisted we were old, and I was certain we are still middle-aged. Again, who cares? It was an interesting discussion, and caused me to think about the differences in our lives that give us differing views. She is a grandmother, has no living parents, lives in a college town in a wealthy area, to name a few; I am not a parent nor a grandparent, have a mom who is doing quite well (thank you for your concern), and live in the 3rd poorest and 13th least educated county in the state. Those things all influence one's perspective.