Apr 30 2012
. . . it's yours!
Some artists don't like to do commission work. Maybe they don't like to eat, either. Or maybe they aren't very good at understanding what other people want. Maybe they are rebellious adolescents trapped in the bodies of adults.
I like commissions.
It is a fun challenge to make a visual representation from a person's verbal description. It is very gratifying to have a happy customer at the end of a job. It is a wonderful thing to have a sale without all the will-she-won't-she.
During the Three Rivers Artists Studio Tour Ten, several folks asked me to paint specific things for them. As a California artist, naturally I was thrilled to receive confirmation that California poppies and giant Sequoias are always a popular subject.

These poppies were unfinished, sitting on the easel, looking like little butterflies when Amy spotted them. She asked if she could buy it before it was completed. I think I said, "Um, sure!" (Hopefully I was more polished that that.) This was painted from a photograph that my very generous mailman brought to me; he's just thoughtful like that.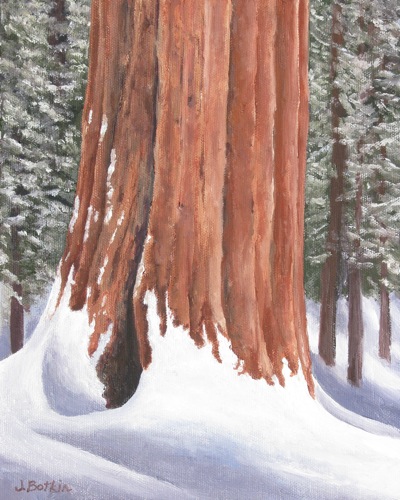 Christine asked me if I thought I could get inspired to paint a Sequoia in the snow. I said, "I'm always inspired if someone wants something." (Hopefully I was a little more polished than that.) I went through my photos, picked one, and happily dove in, well inspired and eager to do my best for Christine. She now has it and is very happy.
That's the goal of commissions in my little business.
Leave a Reply