Mar 07 2012
I have a favorite customer named Bob. In Artspeak, he would be referred to as a "collector". (I try to avoid Artspeak in this blog, because I think it is read by more normal folks than those who use Artspeak.)
Bob has a wonderful wife, with whom I have been acquainted since 1973. Really! She began taking drawing lessons from me last fall, and was just sure she would be the exception to my assertion that I can teach anyone to draw. Bob was also sure she would prove me wrong.
Mrs. Bob worked her way through the beginning exercises. She did well. She likes to get an A on her work, so in spite of the fact that drawing lessons come with no homework, no grades, no tests and no deadlines, I happily gave her As. She earned them, too!
When it was time to start, she chose a hairy dog. It scared her a bit. (No, it didn't bite her!) All my reassurances that it was only paper and we could erase didn't help.
I realized that she needed a subject that meant less to her. Many of my beginning students have found it easier to draw old wood than anything else, so I found a photo of a window on an old shed wall.
Bob My Favorite Customer occasionally asked Mrs. Bob about her progress. He wasn't encouraging. He is still My Favorite Customer. They are still married.
Mrs. Bob was very determined, and we slowly worked through many of the techniques that a good pencil drawing requires. She stopped showing Bob her progress, and he stopped asking.
Bob's birthday was a week ago. Mrs. Bob presented him with this: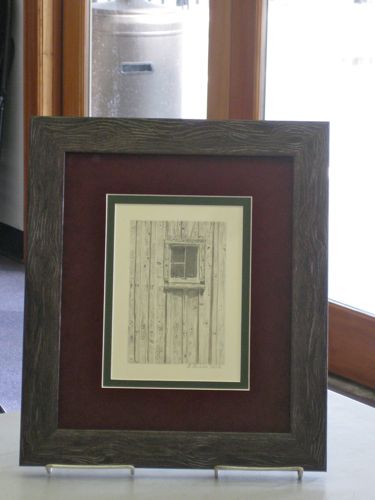 Want to know what Bob said?
"Who drew this??"
Isn't that just the best ever drawing lessons story??

Here is a closer version, and it really looks better than it photographed while under glass.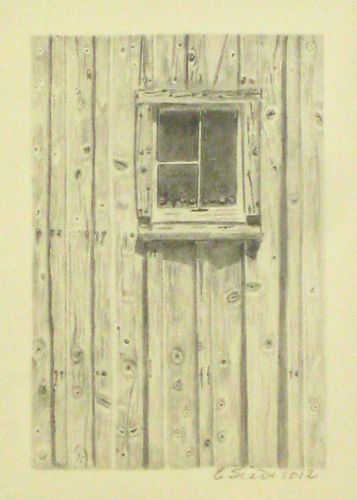 Texture, depth, contrast, detail, and precision – WOW! Congratulations, Mrs. Bob!
4 Responses to "A Drawing Success Story"
#

Diane

on 02 Mar 2012 at 7:42 am

… WOW! yes … well done Mrs. Bob -

And then Bob said, "Quit everything and start drawing all the time!" Isn't that the cutest? He is my favorite customer because he is just so Bob-ish.

Go Mrs. Bob! And her teacher.

Jennifer Dougan
http://www.jenniferdougan.com

Thank you Jennifer! Isn't that a fun result? We've been pretty giddy about it, me, her class and the class that comes after hers.
Leave a Reply