Memorial Day weekend is the unofficial start of summer and of Mineral King time. Thus, you get to read (or skip reading) about Mineral King on Fridays on my blog.
This year we had May weather in March (and February and April too), so we got March weather in May. The weekend in Mineral King was cloudy, cold, overcast, foggy and rainy, with intermittent hopeful spots of sunshine.
My friend Tracy and I went to the Silver City Store to conduct a little business, which is a euphemism for deliver new oil paintings. Here is one that I am particularly fond of:

Below Atwell, oil on wrapped canvas, 6×18″, $150
Tracy couldn't remember ever seeing this sight, so we headed on down to Atwell Mill to take the gentle and scenic walk to the footbridge on the East Fork of the Kaweah (on the Hockett Trail for those of you in the know).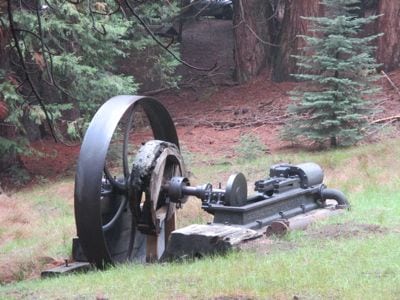 First we passed this thing. It was some sort of an engine that ran the machines for turning redwood trees into lumber.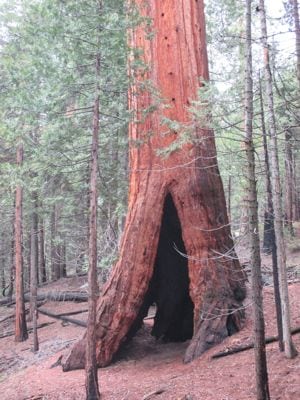 This is one of the giant sequoias that escaped the loggers' attention. Maybe it was too far from the lumber mill to bother with.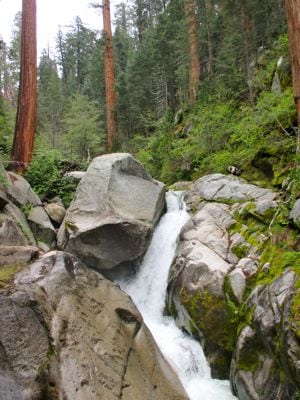 Here is the falls on the East Fork of the Kaweah River below Atwell Mill.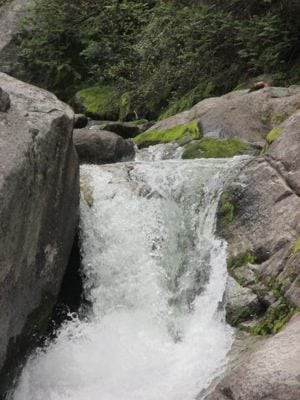 It is powerful and a bit intimidating even in a low water year. There was a little girl crossing the bridge with her parents and brothers, and she was shouting, "I'm going to fall, I'm going to fall!" They hustled her right across, and then she recovered enough for me to take some nice family photos for them. They had their dog with them and were quite surprised to learn that dogs are not allowed on the trails. Guess they didn't see the many signs.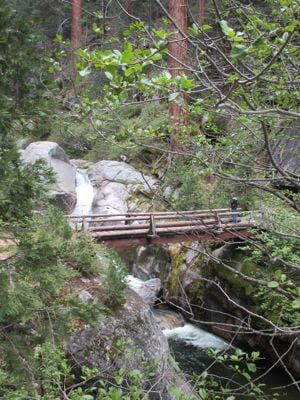 No matter where I stood on the trail, I couldn't find the exact view of my painting. Guess I took some artistic license. This is good to know, because it says I am not a slave to my photos.
Come back next Friday for more pictures and chat about opening weekend in Mineral King!
Relevant Links:
The painting "Below Atwell" is available here: cabinart.net