#12 in the series "Thoughtful Thursdays"
Commissions are one of the most necessary pieces of the art career patchwork quilt. Not every artist is willing to draw or paint to a customer's specifications. Some believe it is too commercial or compromising. Of course it is commercial – this is how I earn my living! Compromising can mean the acceptance of standards that are lower than is desirable, but I believe the artist still has control over the piece and doesn't have to make work that discredits a professional reputation.
The process begins as do all custom undertakings – with a conversation. Clear communication is essential for happy customers. I listen to the potential client explain his idea or vision.  I listen to his description of the subject and recommend the medium based on my experience.
If the customer wants a picture of his house, I almost always advise pencil because such a high level of detail can be achieved. If the subject is scenery and color is the reason for the request, oil is the obvious choice. In portraiture,  I recommend pencil because it provides the best chance to capture a likeness. Portraiture is tricky – I can get all the features in place and accidentally draw the guy's cousin! If it is a view of someone from the back, oil paint works well to capture the stance and the light.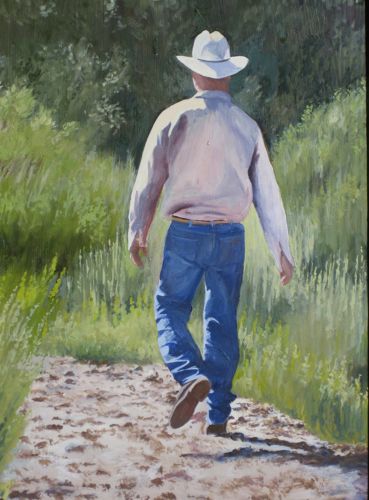 To become familiar with the subject and avoid copyright problems, I take my own photos.  The customer often provides snapshots or emails digital photos to me. Occasionally I have been known to say that I need to visit the place and see it with my own eyes. No one has actually offered air fare to Cape Cod, Montana or even South Africa, but it hasn't been for lack of effort on my part!
After taking the photos, I narrow the selection down to two or three choices. If the customer has asked for a collage, I provide several sketches. Occasionally the customer will say the magic words, "You're the professional" which means I get to choose the design I like best.
Some customers enjoy seeing the piece in progress; others prefer to just see the finished work. This is another area that should be discussed and decided at the beginning of the project.
Deadlines are also very important to establish. I've been asked to do things on impossibly short notice and also on possibly short notice. Either way, I am honest and don't promise things that I can't deliver. Unfortunately there is a terrible reputation for flakiness in my profession, so I make it a point to finish on time or earlier.
Accepting commissions is a way to establish collectors and credibility. The artist has been selected for the job because of a consistent style and a reputation for reliability. Best of all, commissions are rewarding because there is an eager customer waiting at the end of the project.