Mar 21 2012
Help. I'm infected with mad mural disease. Can't stop painting them!
Remember this, the largest mural on the right?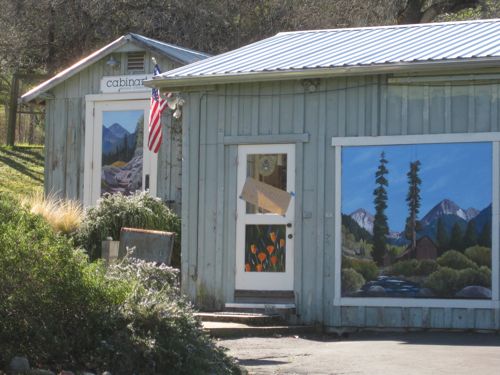 Did you know it is actually doors that open?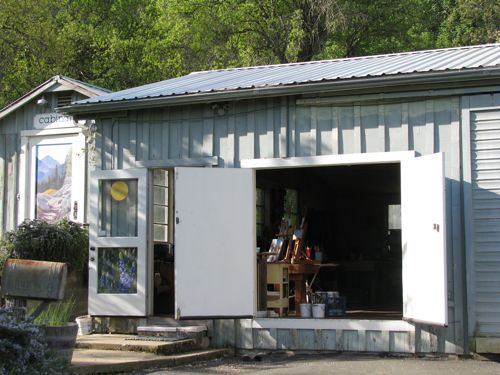 They've been awaiting a mural for several years now. The photo was chosen, but it never seemed urgent. Now that Studio Tour Ten is almost here, the urgency kicked in.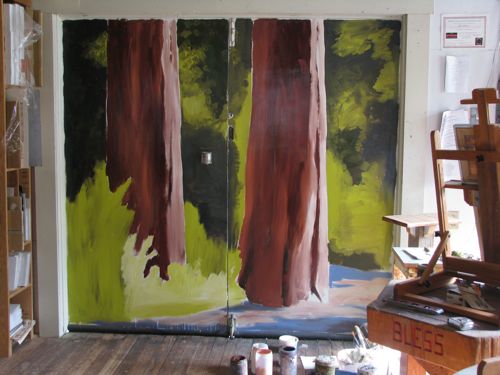 I began working inside the workshop (AKA painting studio) and got all the shapes blocked in. That way when I painted with the doors opened to the outside, the halves would match up again later. And, this scene looks good when it is split in half.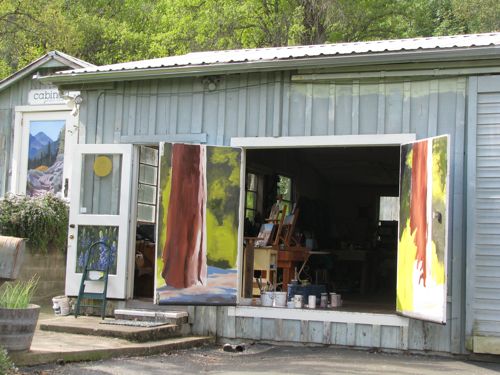 Here are the opened doors with just the bare bones painted on. During Studio Tour, if the weather is nice, the doors are opened and no one can see the Mineral King mural. This way there is something good to see whether the weather is good or rainy (which is also good).
3 Responses to "Sequoia Mural Madness"
Hi Cabinart/Jana,

I've missed you! What fun to catch up on all your back posts. Beautiful backyard, by the way. Fun to see primer paintings and murals in succession.

Was your blog hacked again last week? I couldn't access it then.

Jennifer Dougan
http://www.jenniferdougan.com

Thanks, Jennifer! That is my front yard because the back of the house is snugged up against a hill. The yard is so extensive that I am always forgetting to check the different areas and then things die.

Yep, Jennifer, hacked twice in a row. My web designer is exhausted, poor dear! It is still a little funky for trying to order art through the website, but I am not going to bug her about it for awhile.
Leave a Reply
You must be logged in to post a comment.