Feb 28 2009
Doesn't look like very much in terms of the entire wall, but some square footage was covered today. And look at the sunshine! The day began in thick cold fog, quite a shock from sunny Three Rivers!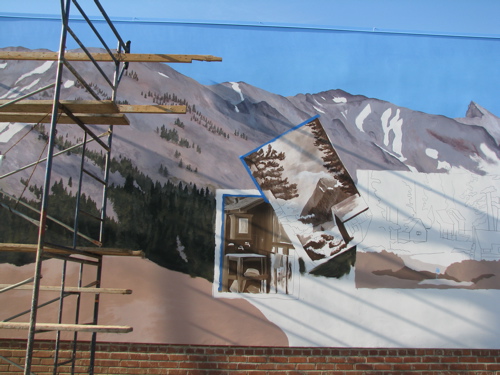 2 Responses to "Mural, Day Twelve"
Hi Jana – I just found your blog and found out that you are doing the newest mural in Exeter. I'm so glad that you are blogging your progress. Now I will have to drive by and check your blog on a regular basis. I can't wait to see what you're doing!

#

Rick Flores

on 02 Mar 2009 at 2:59 pm

Hey Jana! Don told some of us about your site! Great work! For those of us that no longer live in California, it's wonderful to see the Sierras from a far! We'll have to drive by the mural the next time that we're in the valley.

Keep up the wonderful work! All of RHS is proud!

God Bless,

Rick Flores RHS '75
Albuquerque, NM
Leave a Reply
You must be logged in to post a comment.