When I paint at home, it is usually in silence and solitude. Sometimes I listen to the radio or to music. Sometimes I talk on the phone, but only if it rings or there are calls that need to be made. Some days the only person I talk to is the UPS driver. Sometimes there are no cars passing by for an hour or two at a stretch.  When I paint in Exeter, there are people stopping by regularly. I may talk to as many as 20 people in one day! The noise is very interesting – diesel pickups, many different delivery drivers, the forklift from the Exeter Sun-Gazette, the train whistle, back-up beepers, the noon siren, the fire station's outdoor telephone ring, one of the restaurants trundling their garbage to the dumpsters on a cart, and during the week before Valentine's Day, a refrigerated truck's compressor. It is a very different experience than quietly painting in oils at home. I hope I am able to return to silence and solitude with contentment!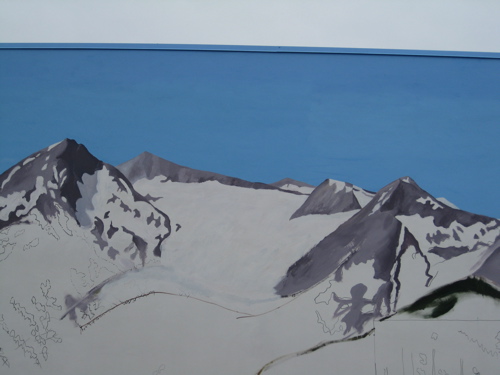 Today White Chief got repaired, and many of the snowless spots had to be snowed on (erased)!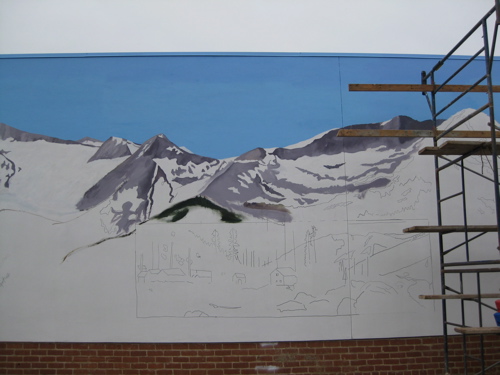 I worked my way toward the sidewalk end of the mural, and got a little bored with gray so there is a patch of dark green just because. (it will be trees later)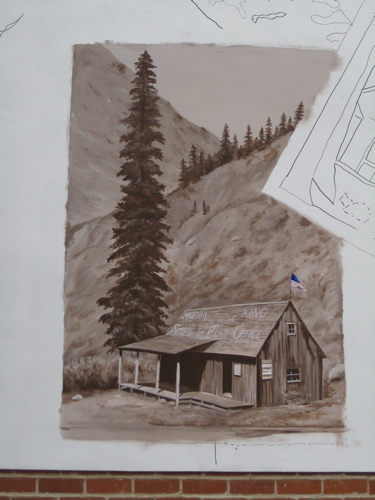 Then, I couldn't stand it another minute, so I finished the old Mineral King Store & Post Office! Maybe. It was so fun to do detail that I began another "snapshot" (what should I call these things??) at the other end. Both sets of rechargeable camera batteries died, so you don't get to see this unless you go to the mural in person.  Rain is forecast for next week, so it may be a little while before I get back to "the city"!