Feb 22 2009
When I paint at home, it is usually in silence and solitude. Sometimes I listen to the radio or to music. Sometimes I talk on the phone, but only if it rings or there are calls that need to be made. Some days the only person I talk to is the UPS driver. Sometimes there are no cars passing by for an hour or two at a stretch.  When I paint in Exeter, there are people stopping by regularly. I may talk to as many as 20 people in one day! The noise is very interesting – diesel pickups, many different delivery drivers, the forklift from the Exeter Sun-Gazette, the train whistle, back-up beepers, the noon siren, the fire station's outdoor telephone ring, one of the restaurants trundling their garbage to the dumpsters on a cart, and during the week before Valentine's Day, a refrigerated truck's compressor. It is a very different experience than quietly painting in oils at home. I hope I am able to return to silence and solitude with contentment!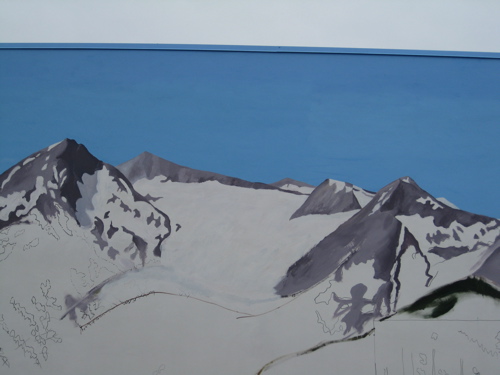 Today White Chief got repaired, and many of the snowless spots had to be snowed on (erased)!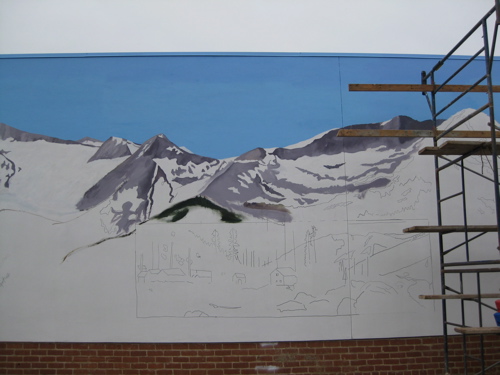 I worked my way toward the sidewalk end of the mural, and got a little bored with gray so there is a patch of dark green just because. (it will be trees later)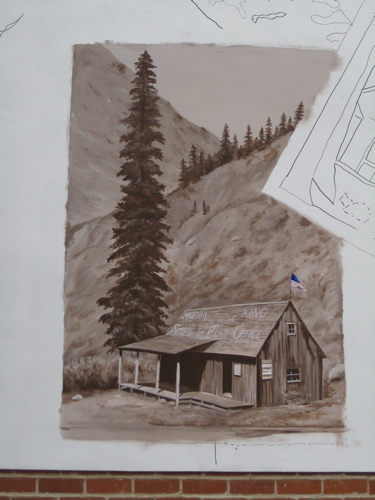 Then, I couldn't stand it another minute, so I finished the old Mineral King Store & Post Office! Maybe. It was so fun to do detail that I began another "snapshot" (what should I call these things??) at the other end. Both sets of rechargeable camera batteries died, so you don't get to see this unless you go to the mural in person.  Rain is forecast for next week, so it may be a little while before I get back to "the city"!
7 Responses to "Mural, Day Nine"
That's why I choose cameras that use disposable AA batteries (although I use rechargeables). That way, I can carry around a spare set that won't fade in strength, or purchase standard AA batteries when I'm on vacation. Or at a place that doesn't have electricity (hmmmm, wonder where that could be!).

Mural is coming right along! I am enjoying the process.

You are right, Sharon. I should just buy some "real' AA batteries for my camera. I was surprised that rechargeables give up!

#

Becky Craun

on 23 Feb 2009 at 7:00 pm

Well, you are only on day nine and from what I can see, you have done a lot! I am no painter (alas!), but I thought it would take you those many days just to prep that gigantic wall. Congratulations on what you have done — I can already visualize the Sierra Nevadas where I was hiking just last October.

#

Chuck Stovall

on 23 Feb 2009 at 11:10 pm

Wow! Jana – this is awesome. Dad sent me the link today and I'm just blown away. I'll be following your progress. What a great addition to the Exeter mural collection. Keep up the great work.

#

Leslie Koch

on 24 Feb 2009 at 3:01 am

Jana, you are truly blessed with a wonderful gift. Your art is exceptional!!!
As for weather we're having rain on and off in L.A., as we did last week. The ground is soaked, if it's not paved. I hear MK needs more snow, but I guess these storms should take care of that!

#

Gina Pearson

on 24 Feb 2009 at 4:03 am

Totally awesome! You rock girl!! As Danny would say, that is "ginormous!"

The post office is cool, and I especially like the color in the flag. Did you sketch the whole mural on site, or did you do it off location in pieces and then put together?

I can relate to your climbing up and down scaffolding. I did a report for Tumacacori National Historical Park on the Cleaning of the Mission Dome. It was a big project involving Italian trained conservators, Native Americans, and the NPS. The scaffolding was high to reach the upper parts of the dome. I climbed it a couple times, took photographs, tracked the progress, interviewed the conservators, and wrote a report for the NPS. It is cool that you are tracking your progress and making comments on your blog. Would be neat if you could put together a pamphlet or something about the whole project and have available at Mineral King. Some people that hike or visit Mineral King may never go to Exeter, but if they knew the mural was there then they could visit the mural and may enhance their experience at MK.

So looking forward to seeing the work in person. In Him, Gina

It's looking great, Jana, and it sounds like you're having a wonderful time.
Leave a Reply
You must be logged in to post a comment.