But wait, there is more besides poppies on my easel. Not really on the easel, but there are other paintings drying on the wall behind my easel. A painter's gotta paint, especially when there is a Studio Tour on its way in Three Rivers. March 21, 22, 23, in case you were wondering.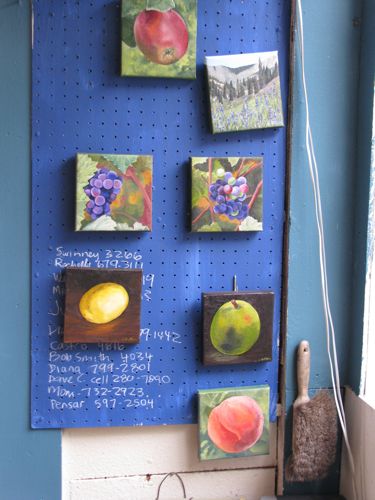 That lemon and pear have been hanging around for awhile. I keep fiddling with them, and now I think they can dry. The little painting of Timber Gap isn't faded – it is just the way the light comes through the windows that are CLEAN FOR THE FIRST TIME IN OVER 15 YEARS!
Excuse me for shouting. I had given up on those windows, thinking it would take way too much time to scrape them clear of putty and paint and who knows what. Turns out that Trail Guy had the time and the skill and the tools and the patience.
WOW!! Thank you, Trail Guy!!!
Oh, the grapes may finally be finished after 49 layers. I am exaggerating, but they have been plaguing and nagging me for many months. The apple and the peach are new. I think they are looking mighty edible. They need a bit more detail in the leaves and a signature before I scan them to show you.
They might be available during Studio Tour, or they might be at Colors.