Apr 23 2014
Did you know that I have another blog?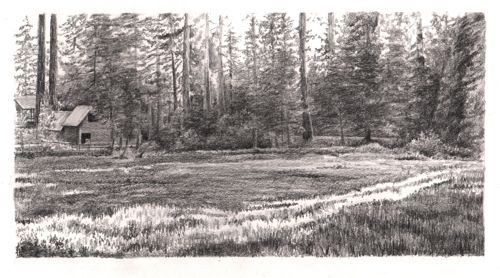 "Cabin on a Sunlit Meadow" – sold
Yeppers.
It is called The Cabins of Wilsonia. For almost three years I've been working on a book of pencil drawings of the cabin community Wilsonia at Grant Grove in Kings Canyon National Park.
The process is documented here. If you click on the highlighted word "here", it will open in a new window with my other blog.
Today and tomorrow I'll be posting over there. I didn't want you to think I'd quit on my real blog.
This is my real blog. Did you know that? I love writing this blog. Yeah, yeah, I know we are supposed to love people and use things. . . it is just the sloppy vernacular of my lazy generation that causes me to state it that way.
For over a year I've been missing from this blog about one day a week. You might have thought I had gotten lazy about regular posting, but I was over there.
I'm sorry for not inviting you sooner.
You are invited now.