Oct 21 2014
Remember the mural on the side of Rocky Hill Antiques? I painted it last June. Here are the links to the posts about it:
Projecting A New Mural, Chapters two, three, four, five, six, seven, and eight
The mural looked like this at the end.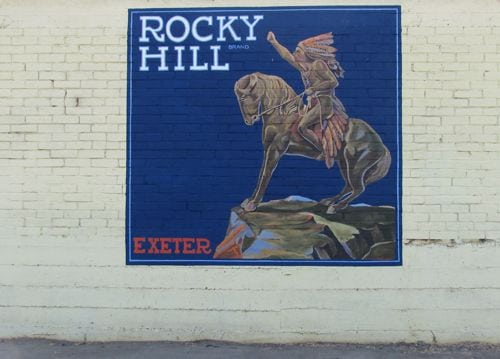 We simplified it from the original label, which was full of words and a cellophane wrapped Sunkist orange. After simplifying, my customers decided it was too plain.
By that time, it was summer and definitely too hot to paint on a wall that collects heat all morning. There was much discussion, and eventually the owners decided they wanted an orange added with the word "ANTIQUES" on the orange.
This is Exeter, California, an orange-growing mecca, and this is an orange grower's label.
I used the orange off a label provided by the store owner and Photoshop Elements to try to illustrate what I thought they were requesting.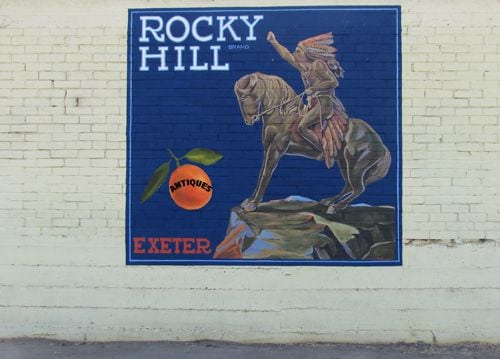 They may have requested a larger orange, or perhaps I just decided to try one.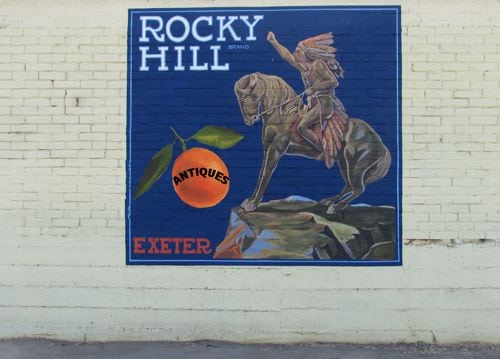 The word in the orange just doesn't belong. Of course that is my opinion, not an absolute truth. The customers' wishes are supposed to take precedence over the artist, or are they?? Hard to say. . . I am a hired painter, but I do have a little pride in my work.
Let's look at my favorite version.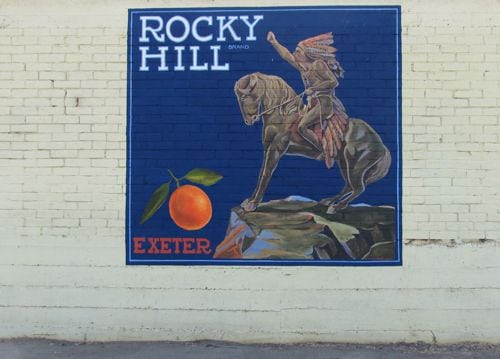 This suits me. However, it still didn't suit the owners.
What's an artist to do??
Wait. Wait for a better idea. Wait for the heat to abate. Wait for inspiration, for something.