Apr 17 2014
The Redbud Festival is coming soon. First weekend in May this year, and at the Memorial Building in Three Rivers, which is a new location.
As usual, I have no idea what to expect in terms of visitation or sales. A crystal ball certainly would be useful.
Oh well. Guess I'll just paint a combination of what has sold well before and what floats my boat.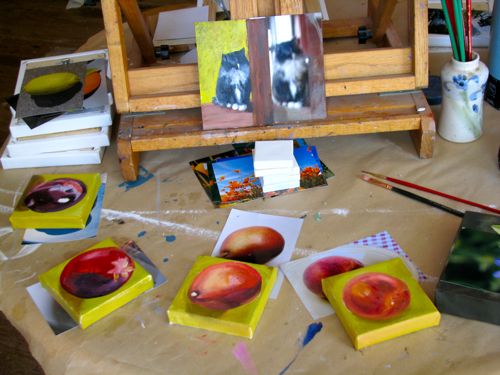 The first draft is bright but rough.
Now they are drying in the window sill. The colors look funky because they are wet and reflective.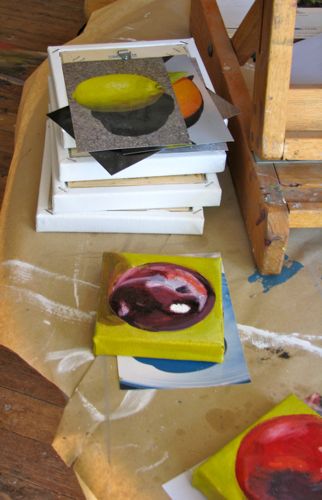 What is that stack of stuff? I looked through my fruit photos (Phruit Photos? Fruit Fotos?), picked the ones that floated my boat, attached hardware, then wrote titles and inventory numbers on the backs of each canvas.
Now they are almost finished, drying on hooks next to the window. When they are dry enough to handle, I'll sign them. When that part is dry, I'll scan them. These are 6×6 wrapped canvases, in oil paint, and will sell for $50 each.
Or not.
I may be a California artist, but Tulare County is the 13th poorest out of 58 counties. And in spite of putting the price next to the painting, people always ask how much. We are also the 3rd least educated county in the state.
Always gotta do things the hard way, eh? Do you think my paintings of fruit would sell in Marin County? I could add another zero, maybe borrow my neighbor's BMW, have someone dress me so I could pass, and make a run up there.
Nah. They'd see right through me.
Tulare County is where I was born, and it is where I'll stay and paint. Sometimes I love it here, and sometimes I want to run away. That's probably how it is with every place in the world.