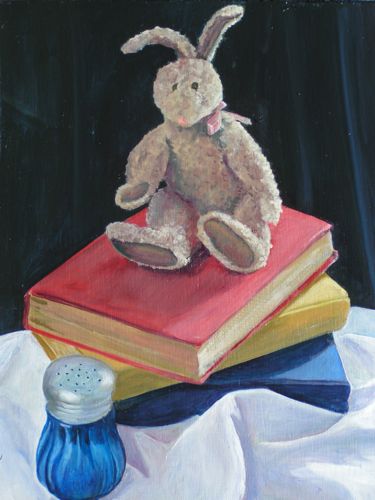 Salt and Light, 11×14 oil on board, NFS
This California artist does more than just draw or paint. Sometimes she knits, sometimes she reads, sometimes she does both at the same time (if the book will lie flat).
Pennybridge, by David Tolladay is a self-published novel by a pastor from Tollhouse, California. (Hmmm, do you think his hometown influenced the title of the book?) It is the story of a pastor, somewhat reminiscent of the Mitford series by Jan Karon. There are little sub-stories woven throughout, it held my interest, was a little hokey at times, had typos and needed an editor, and I thought it was great anyway!! The book was given to me by a dear friend who goes to his church, so I thought of it first as a mercy-read but ended up thoroughly enjoying the story.
An Italian Affair, by Laura Fraser (the same author of Losing It from my last list) is an autobiographical book about an affair with someone she met while on a trip to heal from being dumped by her husband of 18 months. It is written in a odd style – don't know the right technical term, but it is the "you" tense. She is brave and adventuresome and lets the reader in on her thoughts and feelings. Can't say that I related to any of it, but it was certainly interesting to read! (and the complete opposite of Pennybridge)
All Over the Map, by Laura Fraser is her third book. This one tells of her struggles at turning forty, her quest for purpose and her travels during the next 6 years. It has a happy ending, but leaves me wanting to know what happens next in her life. And, it causes me to be both immensely grateful for my stable steady safe life and a little dissatisfied too. I'd love to meet Laura, but will be content reading her blog.