May 18 2012
The year was 2008, and the California poppies were stunningly abundant in Three Rivers. People still talk about it.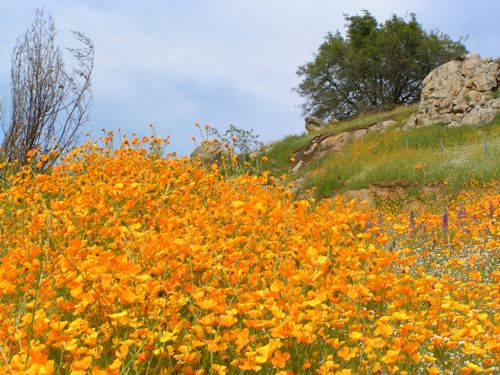 This is one of my photos from that most memorable year.
My postman brought me some photos he took, and I painted from them. You saw the results of one such painting here.
I promised to show you this when it was finished, and I keep my promises. If I remember. This larger version contains more detail than the 8×10 version. The mailman's photo was easier to paint from than mine, because the solid mass of poppies almost makes my head spin. Hard to paint with an almost-spinning head.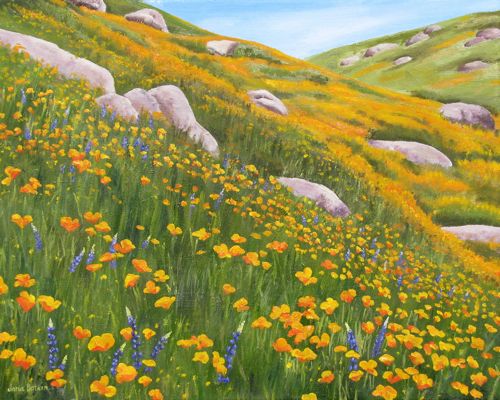 Great Poppy Year©, 16×20″, oil on wrapped canvas, $360
6 Responses to "Great Poppy Year"
The rocks dispersed throughout do make it easier to see the poppies too, for some reason. Lovely. I notice the downward slant of the hill too, and the blades of grass in the front.

Thanks for stopping by my site. Yes, that grabbed my attention too –seeing God give us gift ideas. It made me think and smile.

How goes the art life this week?

Jennifer Dougan
http://www.jenniferdougan.com

Thanks for your opinion, Jennifer. Seems there needs to be contrast of color and texture and shapes for the poppies to really show up well.

Art life this week is more like business than art-making. That's the nature of self-employment when I don't have "people"!

For some reason, I want to start singing…

"You're out of the woods, You're out of the dark, You're out of the night. Step into the sun, Step into the light. Keep straight ahead for the most glorious place On the Face of the Earth or the sky. Hold onto your breath, Hold onto your heart, Hold onto your hope. March up to the gate and bid it open."

Really nice, Jana. They're a different color but I couldn't resist. The Poppies made me do it.

Brian, I don't know that song!! But if my painting makes you sing, then I am happy! What do you mean about the poppies being a different color? Is this in reference to something in the song?

I thought you'd recognize those words.

I guess the title is "Optimistic Voices." It's the song you hear as Dorothy, the Scarecrow, the Cowardly Lion and the Tin Man come out of the dark woods in the Wizard of Oz…just before they get to Emerald City.

The poppies in the movie are red, or pink. Here's a YouTube clip…if I can post a link..?

Brian, I am embarrassingly out of it when it comes to movies and television. . . I know bits and pieces of Oz ("Poppies will put them to sleep!"). Thanks for helping me learn. . . maybe I'll even click on the link!
Leave a Reply