You regular Blog Readers (thank you for reading and caring!) know that my favorite thing to do is drawing, not oil painting. So, when I have a good painting day, it needs to be marked, remarked, remembered, noticed and celebrated.
An oil painting has been hanging around for awhile. Both Trail Guy and I wonder why it hasn't sold yet. . . I've named it, of course, but it hasn't really become a pet. A few years ago I reworked it, knowing I could do a better job.
On my good painting day, I reworked it again. In this photo, it is the one on the bottom. I had planned to work on the painting on the top, but on impulse (WHAT?? I am not a very impulsive person – what happened??) I pulled it out of the studio and moved it into the painting workshop.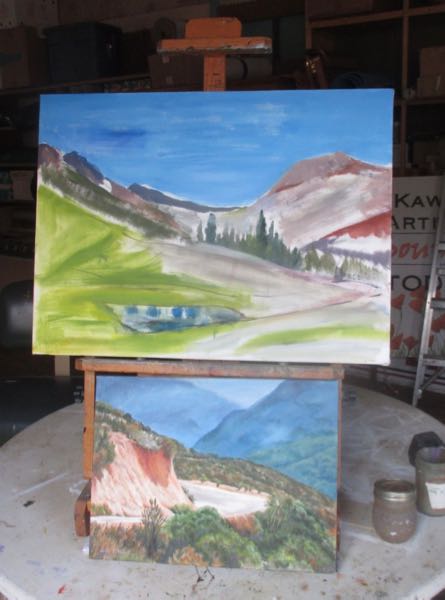 Then, I redid the background, which meant that some of the middle ground needed to be retouched.
Do you see 2 photographs in the photo below? I used the upper one the first time and the bottom one in the do-over. Maybe it hasn't sold because the colors were overly brilliant and/or because it looked more like a telephoto-type photo instead of a realistic painting.
Since I live in Realville, it was time to bring the painting along. This was a good decision, because it attracted attention and good comments at the recent Perfect Gift Boutique when in the past it was just ignored (poor old thing. . .) Even being as non-objective about it as I am, I can see that it is better than before.
But what about the painting I had initially planned to work on? Got the sky and the back mountain ridges done (maybe) and the top of White Chief Peak begun. Looking good on a good painting day, and looking forward to moving forward in the painting!
Now that was some poor writing (used the words "looking", "good", "painting", and "forward" twice each in the same sentence). Does this mean that a good painting day makes for a bad writing day?
Life is full of unanswered questions.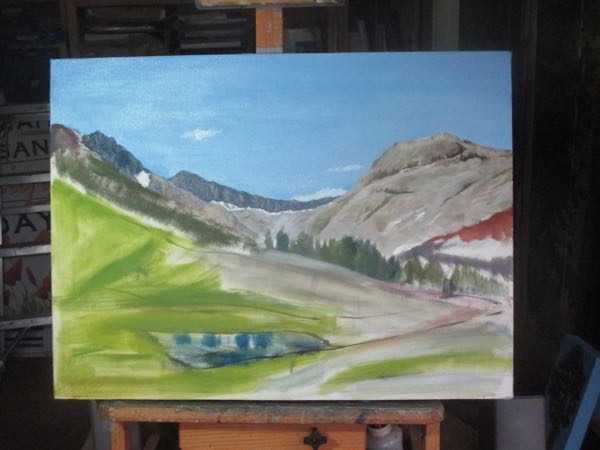 This thing looks okay but it smells funny.