That's a non-Google kind of title, but the real title is boring. "Mineral King Mural #3 is Finished in Three Rivers Museum".
First, a little context. Here is mural #1 as it appears in the Mineral King Room of the Three Rivers Museum (Redundant, I know, but I have to say all those words so this post can be found on the World Wide Web.)
And to our left in the Mineral King Room:
The cabinet in front of mural #3 will be sitting lower once it is removed from the dollies. Yes, those rolling platforms are called "dollies" – anyone know why?? The other sort that guys with their names on a patch on their shirts use to push around boxes of things are called "hand trucks". (One never knows what sort of helpful tidbit one might pick up on this blog.)
And now for a little glimpse into what sort of fiddling and polishing happens at the end of a mural job – here is how the left side looked last week:
Louise said that the snow patch on the far end looked like white paint. I agreed, and saw that it had the wrong angle on the bottom. Then I added a spot of rocks in the center. She also said that the trees were too sparse, and of course she was right there too.
These are minor details, but those who know, KNOW. Louise KNOWS. I fully trust her judgement, particularly about Mineral King. She has been a tremendous help to me on every Mineral King mural I have ever painted, and I LOVE working with her on any project. (Remember the book Trail of Promises this year? It came out in July, and is available here and on Amazon.)
Happy Birthday, Carol!
Trail of Promises: Packing the Backbone of the Sierra is finally here! Louise Jackson has been working on this manuscript for several years; she and I have been working on it since last September, and NOW IT IS HERE!
Ahem. Please excuse me for shouting. Lots to be excited about here!
Eventually it will be available through Amazon. Until then, you may order it from me, or of course from Louise Jackson, Monica and Jack McArthur, or Mike McGinnis if you know them.
We'll start with an Add to Cart Paypal button right here. I'll put it on my website when I calm down enough to figure out how.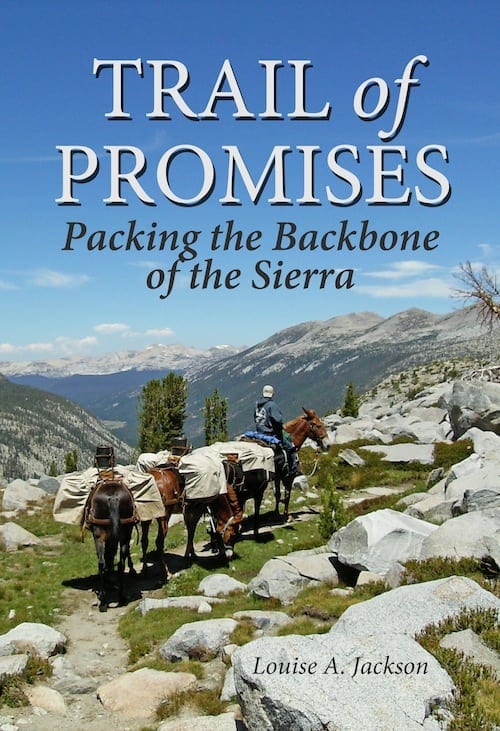 The total with tax and shipping is $21.29 per book. If Paypal's math turns out differently, I will refund you the difference.
Meanwhile, here is what the back cover of the book says:
While many live with intentions to experience adventure, three people–a recreational packer, a wilderness backpacker and a horse masseuse–actually followed through. Their trip along the backbone of California's Sierra Nevada was guided by commitment to a special cause and promises made to friends, family and themselves.

Too quickly, completion of both the trail and their promises proved elusive. Blocked and broken trails, misdirected advice, injuries and even death became a part of their month-long experience. Only with the help of their faithful mules, families and friends, and with the sustaining wonder of the wilderness surrounding them, could they succeed in accomplishing the goals they had set.

The outcome was not what they expected.

Save
Save