The Commissioner and Mrs. Commissioner were very happy with their commissioned oil painting of the Kaweah Blacksmith Shop.
This little building used to be up the North Fork of the Kaweah where the Kaweah Colony was. The flood of 1997 took it away, and in recent years, The Commissioner and his wife bought the property and began learning about it.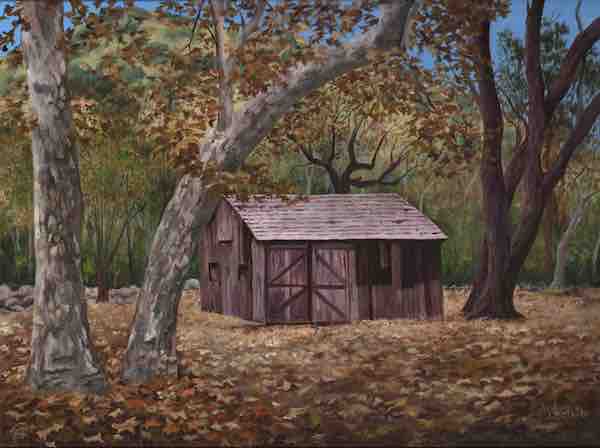 He liked this one too. This pencil and colored pencil drawing has a story to it, several stories, really.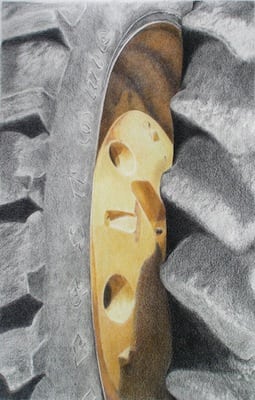 I drew this from some photos taken at a friend's farm yard north of Sacramento. The tires were taller than I am, and my friend said it is quite A Thing when one needs to be changed.
The piece in the Madera Ag Art Show got 1st place in Equipment and Machinery, but it didn't sell. I showed it around for awhile and finally just put it in my studio. Classic example of what I like not resonating with the general public. . . sigh.
When I was scrolling through old emails looking for Mrs. Commissioner's name because I forgot it (rude), I found an email from 2007 mentioning the fact that The Commissioner might be interested in this piece. There was no way I was going to call a stranger to ask if he wanted to buy a drawing, even a 1st place one. Not happening!
He is no longer a stranger, he remembered the woman who suggested that I show this to him (she died in a skydiving accident, so you can see what a memorable person she was), and he has very good reason to want this drawing.
That reason will remain a secret, because I am not in the habit of revealing personal information about my customers. I may be rude enough to forget important people's names, but I have my limits on rudeness.