A week or so ago, I showed you the very rough beginnings of 5 new Mineral King oil paintings. In spite of the scribbly appearance, a faithful blog reader claimed one of them. She knows I can paint, although at this stage there isn't much visual evidence to back up her confidence in my abilities.
This necessitated a new painting. It is a weird mini factory assembly line situation to paint 2 of the same scene at the same time. Efficient, but like deja vu all over again.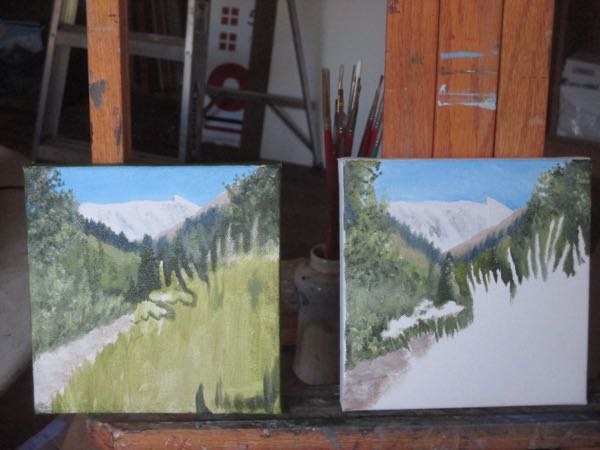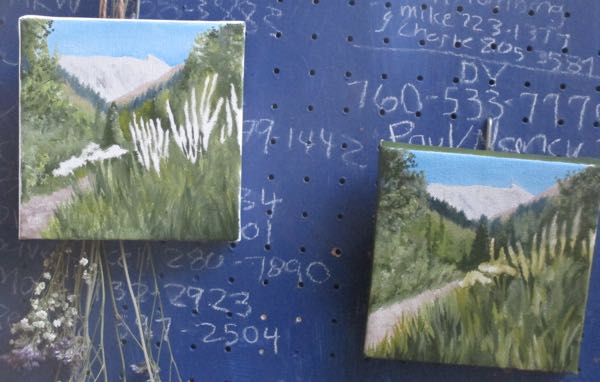 Sawtooth is a popular subject in the Silver City Store (4 miles below Mineral King). It is visible from the seat of Tulare County, Visalia, on the days when we aren't qualifying for the worst air in the nation. The smog funnels through the Altamont Pass and into the Central Valley, a fluke of geography. Sigh.
But I digress. Here are the other little Mineral King paintings in progress. The first one is aspen trees along the Nature Trail, the lower end of the same trail with the view of Sawtooth.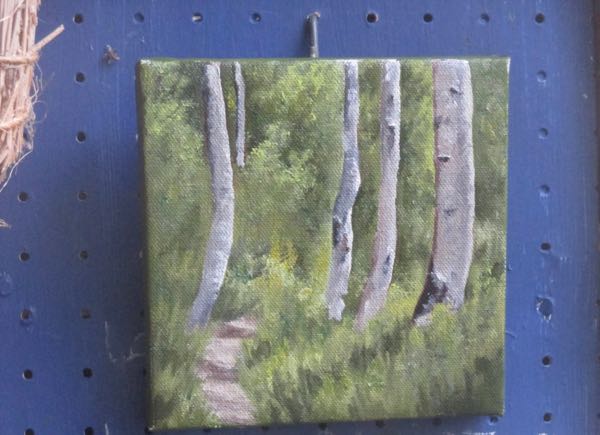 The one on the upper left is the Monarch/Sawtooth trail, heading back down to Mineral King. Upper right is White Chief (the greenish color in the sky is the result of dropping my palette on it, and it will be repaired in the next layer of paint); bottom painting is the trail leading out of Atwell Mill through the redwood trees.
Atwell Mill is the campground below Silver City in a mostly logged grove of sequoia (AKA redwood) trees. The trail below leads to the East Fork of the Kaweah, one of the best trails in the Mineral King area.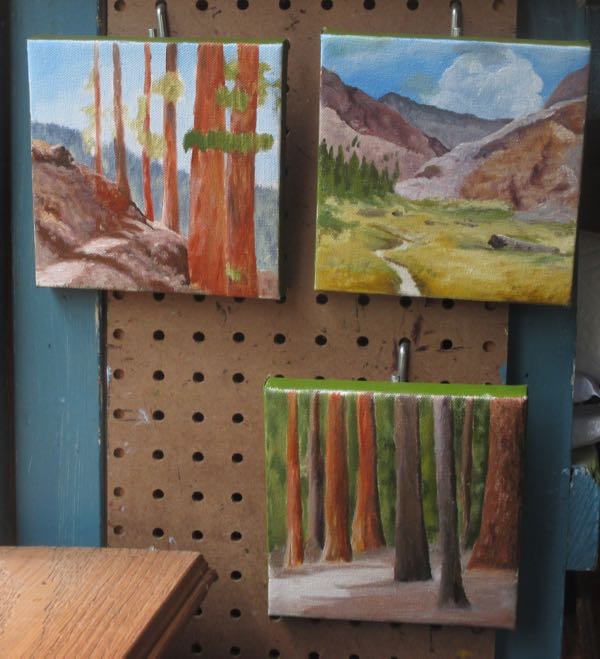 P.S. In case you think these paintings look as if I can't paint, please be reassured that each one needs at least one more layer. That layering method is called "glazing" in Artspeak. It is what allows this pencil artist to paint without coming unglued at the inability to erase.