Does "Mineral King Trail Paintings" sound as if I am painting along the trail?
Sorry to disappoint – there is too much snow to be hiking there now. Instead, I am oil painting in the studio, working from photos taken while hiking in the past. Or just walking. . . remember, it is a hike if you carry lunch and/or water; if you go without provisions, it is simply a walk.
Have a look at these beginning messes oil paintings. Sometimes it is easier to get a thin first layer down and then move on to the next painting. Other times it seems to work better to get it done in just one thick pass over the canvas. I don't know why my working styles vary – subject matter? colors? temperature in the studio? Amount of sleep I did or didn't get? Other pressing business? Mosquitoes?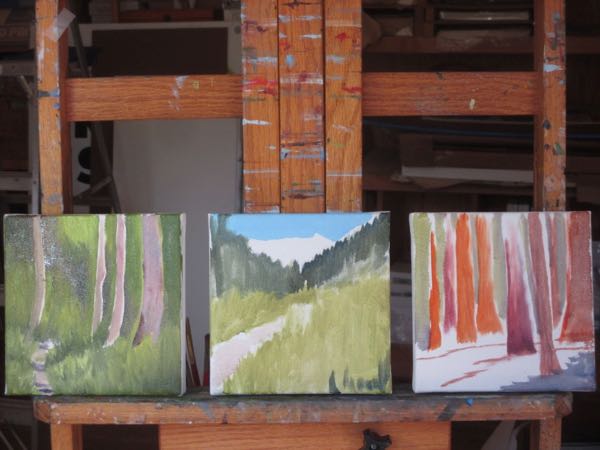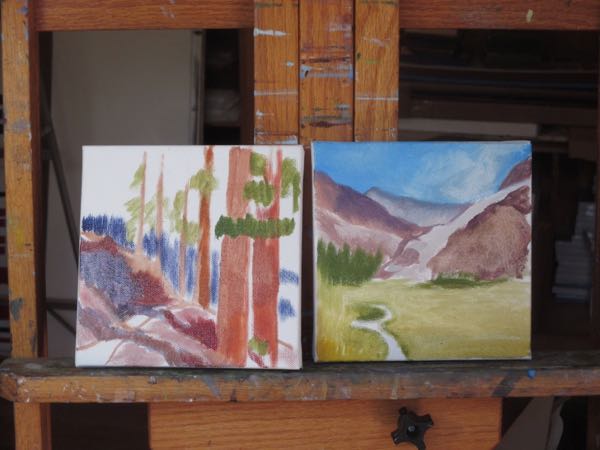 Top to bottom, left to right:
Mineral King Aspens – these are along the Nature Trail that connects Cold Springs Campground to the Mineral King Valley.
The Nature Trail with Sawtooth in the background. I'll add wildflowers (and a lot more detail and paint – fear not.)
Atwell Mill – this is a campground below Mineral King and Silver City in a grove of Sequoia trees. It has a great trail that leads through the big trees down to the East Fork of the Kaweah (and on to Hockett Meadow if you are so inclined.)
Monarch Trail – this is heading back down the hill from the lake. Makes my feet hurt to think about it.
White Chief – short and steep, makes my heart sing and my lungs beg for mercy.
When finished, these paintings will be for sale at the Silver City Store. They are each 6×6″ and will be $65, including tax.
Or, you can email me and request one before I cart it up the hill.
Alternatively, you can ask for it after it is there, I can fetch it when I head up IF it is still available, or I can paint you a new one.
So many choices.