Do you remember reading that I was doing a pencil drawing of a walnut grove, a commission, and was waiting for more information? I received what I needed, finished it, and now I am waiting to hear if the commissioning parties are happy.
So, I'll show you another pencil drawing commission that I finished. The customer is very happy.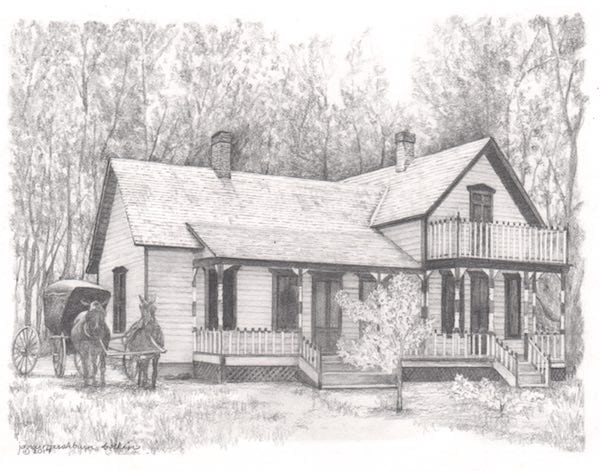 This was difficult. The size is 8×10, and that is really too small for all this detail. I did most of it underneath a large magnifying light, and resolved to stop offering the 8×10 size. It was a relief that the customer didn't want the family sitting in the front yard – I would have just had to say a definite and resolute NO! The horses looked a little weird in the photo – as if they had horns or something. When I asked the customer why they looked so weird, she said, "Who knows? It is Oklahoma! Just make them look normal."
Too funny – are horses weird in Oklahoma? Maybe in the late 1800s or early 1900s they wore ear points.
I also wondered about the alternating colors of paint on the porch pillars. Red and white is my guess, but perhaps dark green and white.
Interesting pencil commission job – have I mentioned lately that I love to draw in pencil?
And here's a little aside about living in Three Rivers: the customer/friend has been telling me for awhile that she'd like me to draw her old family homestead farmhouse. I saw her at the Post Office and reminded her. She was ready to begin, so she dropped it off in a special mailbox I have near the bottom of my driveway. We did the entire job without actually seeing one another in person – all email and drop-offs, no more chance encounters at the Post Office or on a walk. We live about 1-1/4 miles apart and often walk past one another's homes.
In addition to loving to draw in pencil, I love living in Three Rivers.