Designing coloring books involves drawing, my favorite thing. Coloring the pages is for other people to do.
But, I got curious. So, I gave it a try in the ag coloring book, Heart of Agriculture: Celebrating Tulare County Farm Bureau's First 100 years.
This is as far as I got on the title page. I filled the letters in with blues, because there is very little blue in agriculture unless you drive a New Holland Tractor. (Cats are yellow, Massey-Ferguson are red, John Deere are green: I don't know about Kubota or Mahindra or International Harvesters.) Couldn't decide on the cow – dairy? beef? Reddish? Black Angus?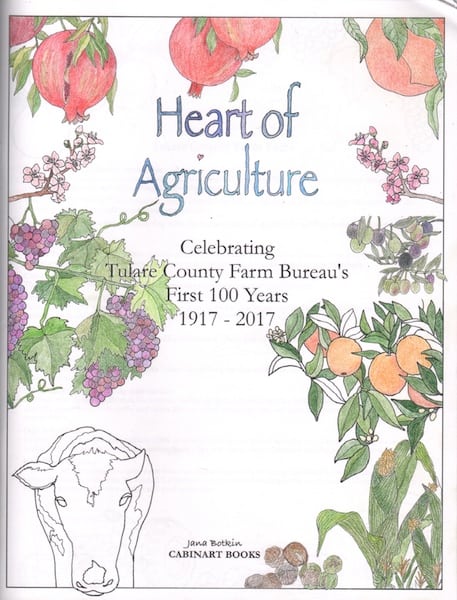 And this is the beginning of the citrus page, one of my favorite designs in the book.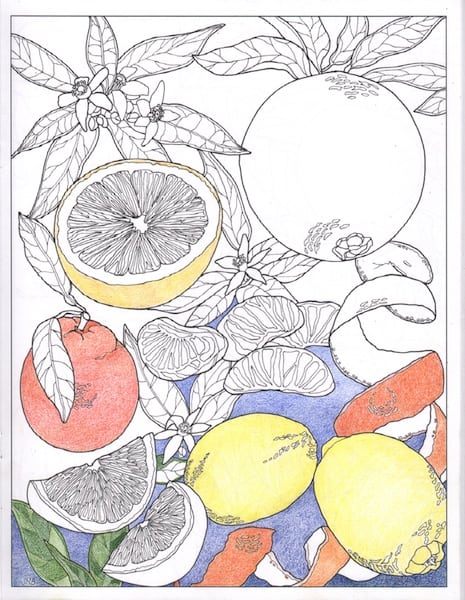 I don't know why I started at the bottom of the page. Look – more blue! It makes the yellows and oranges look brighter.
This stuff is time-consuming. I think it is probably the most fun for people who don't draw or paint (or knit). It would be a fun group activity – a bunch of friends sharing conversation, ideas and colored pencils or markers. A bowl of M&Ms would be appropriate too. . . dark chocolate, if I'm there.
You can get the Heart of Ag coloring book at the Three Rivers Mercantile, Rosemary & Thyme or the Mural Gallery in Exeter, or on my website here. And, of course, if you see me around somewhere, I almost always have some in the trunk of my car, along with many of the other books I've published. (coloring books and The Cabins of Wilsonia)