Over a year ago, I was at a dinner and ran into someone who had bought a colored pencil drawing of oranges from me in the early 2000s. He mentioned that it was still hanging in his office.
I said, "I draw better now; can I have it back to fix it?"
Yes, I actually said that to a satisfied customer. He was sort of shocked, but he agreed; then, a year passed and I heard nothing.
Last week, one of my drawing students came to class with the original colored pencil drawing. She exercises with the customer's wife, and I guess the man decided to take me up on my offer.
I've learned more about color than I knew back in my days of colored pencil. This is probably a result of learning to oil paint. (Last week I said that growth is good unless one is a cancer cell. . .)
BEFORE: Central California Sunshine, a colored pencil drawing from 2001
AFTER: Central California Sunshine, revised in 2017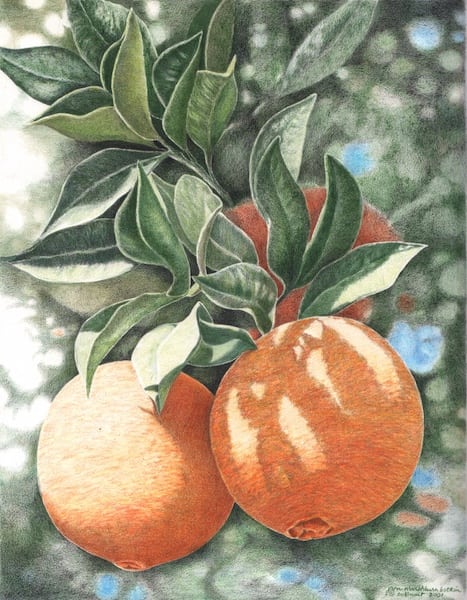 Here, let's look at them small, so they show up on the screen at the same time (depending on your device):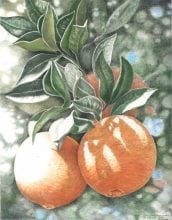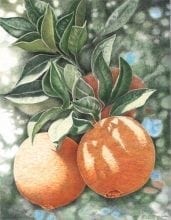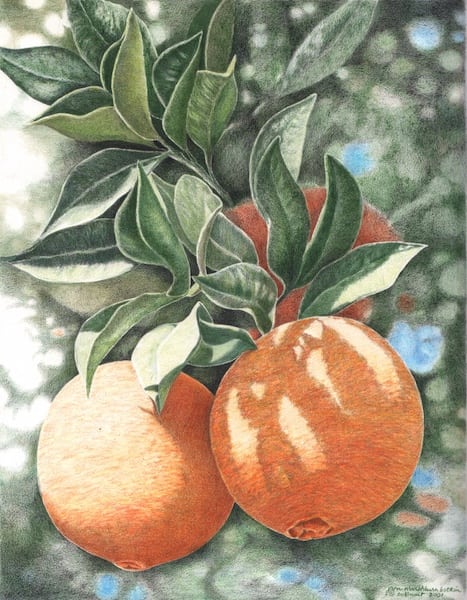 The upper one looks almost finished, the lower one looks finished. The difference is probably too subtle for normal people to notice, but it matters to me.
This drawing is available as a reproduction print, 11×14, $40. One time a potential customer told me she didn't like it because the light on the orange on the left looked like frost to her. Ever since that time, whenever someone buys a print, I add color to it. It is time consuming, and it has made me wish to get the original back so I could fix it.
THANK YOU, DENNIS AND PATTY, for a chance to redeem my reputation!