Jan 26 2012
This is an update on the The Cabins of Wilsonia, not a report of books I'm reading.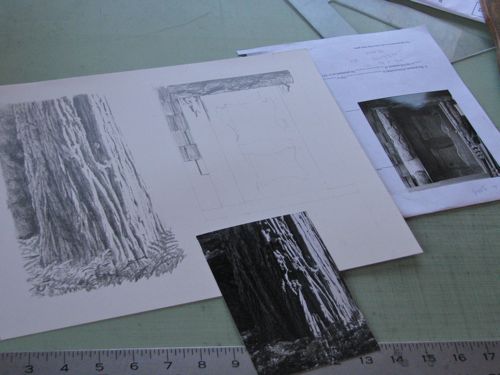 Sometimes I put 2 drawings on a single sheet of paper because it is just that much less to handle. (read "lose") And I am frugal with paper. (read "lots of things")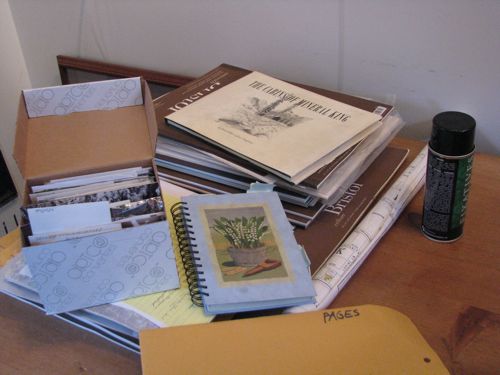 This is my Wilsonia stack of stuff. There is a pile of finished drawings and paper (Strathmore 400 Series Bristol Smooth), The Cabins of Mineral King for reference, the box of selected photos arranged alphabetically by street, the rolled up map I used while learning the layout of Wilsonia and its cabins, a can of spray fixative, the notebook I carried around while learning about and photographing the cabins, and a manilla envelope labeled PAGES. This is where I keep my "map" of how each page is to look. This project would come to a screeching halt without those little sketches.
Now I am mostly finished with Alta, Brewer and Chinquapin Lanes and have begun Cedar. 3 streets (mostly) finished, 26 streets to go.
Dang. That looks frighteningly large. One bite at a time. Draw, draw, draw.
2 Responses to "Book Report"
#

Gus

on 07 Mar 2012 at 1:16 pm

Hang in there. We are rooting for you.

Thank you, Gus! Without you all behind me, I'd probably decide it is just too much work, and then I'd go hiking.
Leave a Reply