Happy Birthday Jenny and Debbie!
First there was this version: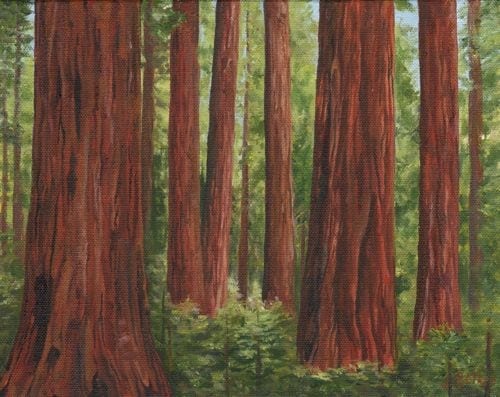 Why didn't I like this? Other people did, but they chose other sequoia oil paintings instead of this one, so maybe they were just being polite.
I thought it over while at a show, with time in between visitors to evaluate things.
My main conclusion was that it needed something, but I wasn't sure what. So, I took it home and started messing with it.
Does it look any more appealing now? I added more sky, dulled the distant trees a tad, and brightened the small foreground trees a teensy bit. The whole thing is much brighter in real life than on my screen here. And at the recent Perfect Gift Boutique, it attracted more comments than it did before renovation. However, it is still in my studio so it didn't stir anyone to part with any money. Yet.
There is no way to be fully objective about one's own work.