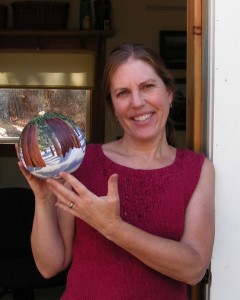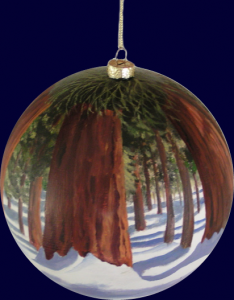 In August 2007 I had the honor of being asked to paint an ornament to hang on the official White House Christmas tree (in the Blue Room). Mrs. Bush chose the National Parks as that year's theme, and the people in Sequoia thought of my art for their ornament.
The ornament was supplied by the White House and I painted it in oil. It will be stored in an archive somewhere in Washington, D.C.
Mrs. Bush gave a reception for artists and decorators, and I had the thrill of attending. It was fabulous in every way – everything was beautiful, we were treated with care and respect, the food was outstanding, and the other guests were interesting and just as excited as we were!
There are 391 National Parks (including monuments, recreations areas, etc.) under the Dept. of the Interior. About 350 of the ornaments were completed and returned to the White House.
Each artist and decorator was invited and could bring one guest. There might have been 500 people there – hard to say! It was crowded, too crowded to see Mrs. Bush when she gave a short speech of appreciation to the artists and decorators and for the National Parks.
It was also too crowded to really look at the ornaments – all 350 of them on an 18′ tall tree in a small crowded room with guards gently but firmly shooing us back if we got too close!
So, thanks for sharing my excitement!