My website is about:
Tulare County, California
Finding, showing off, and focusing attention on the good parts of living here. Mineral King, Sequoia, Three Rivers, citrus, old buildings, general scenery of the area – it is all here for you to enjoy. The latest addition are coloring books called Heart of the (the Hills, Mineral King, Exeter, The Parks, and Agriculture).
Pencil drawing

It is the best way I know to freeze every detail, emphasize the shapes, textures, light and shadow of almost any subject. My favorite, of course, is cabins. Yes, I can draw your cabin or home for you.
Drawing lessons
I believe almost anyone can learn how to draw; it is the basis for all good art. Yes, you can learn to draw too.
Oil painting
It is the classic medium for changing a 3- dimensional world of color into a 2-dimensional visual reminder of a place, thing or event. I began painting on March 8, 2006.
Murals

They changed Exeter, California, and they changed my life. When we began the project in Exeter, I had no intention of learning to paint, let alone paint huge pictures in public. Look what happened.
Blogging
It is the perfect way to share my art and my life, seriousness and silliness, show and tell. I LOVE to blog and I love to hear from you in the comments.
Privately I am about:
Being married 31 years, Samson (a young cat who looks like a Bengal and bites like a maniac), editing and book design, knitting, long walks with friends, reading great non-fiction and occasionally fiction, Bible studies with a few very dear friends, letter writing, yardening, dark chocolate, and hanging out in Mineral King with my husband.
CABINART is the name of my studio and has been my full-time profession since 1993. It is located at my Three Rivers home and is open by appointment. Call or email if you are planning a visit to Sequoia and would like to see an artist at work, catch a glimpse of Samson, and soak up a little of Tulare County's best places.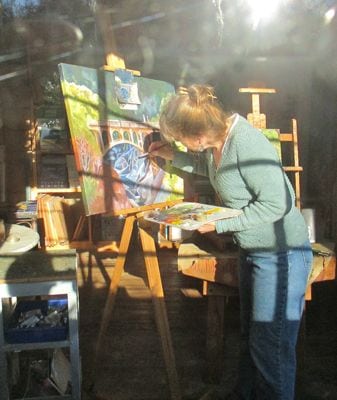 P.S. I made that green sweater.
P.S.#2 That bridge is my favorite subject to draw and paint.