It wasn't hot Monday! I thought I'd be able to paint on the Mineral King mural in Exeter (please excuse the redundancy – it is for the search engines) until around 5 p.m., but no way because I am a middle-aged wuss who ran out of gas.
A pleasant day with lots of interesting folks stopping by. I'll put the list at the end.
The day's work began with detailing the area below Farewell Gap, while standing on the ground. This is what I consider to be the focal point of the mural, but with something this wide, there are many focal points. It's because this area is closest to the valley floor of Mineral King, even though the mural isn't tall enough to include the valley floor.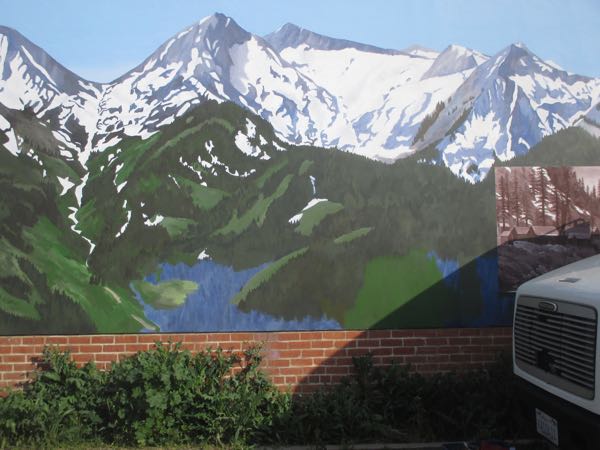 This is how it looked after 1-1/2 hours of painting. Felt quick, but needed more detailing. Plus, there is still a blue space, which probably measures 2×4 feet. That would be a large painting by itself, but on this mural it is about the relative size of a postage stamp.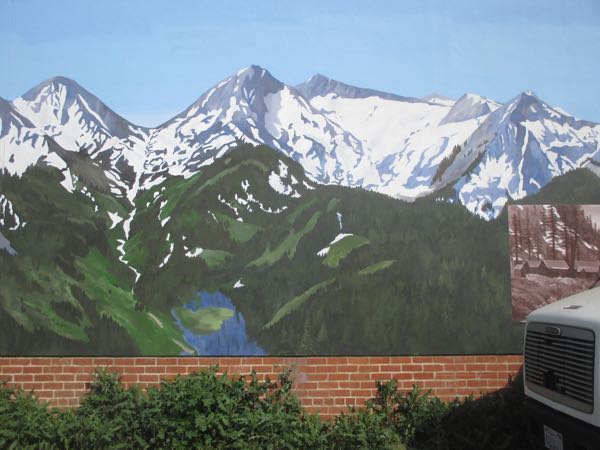 When I took a brief break at noon, this is how things looked. Lots of little dabs, softening edges, roughing up parts that looked too smooth, fiddling, "perfecting", which is actually not possible with these huge brushes, at least as I define "perfect" (and "huge").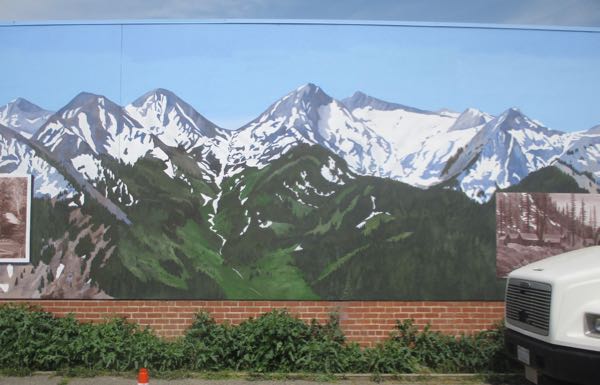 Next it was time to climb up on the bed of the truck, and move into Panel #4. (Wait! it is only Day Eight, and this is supposed to happen on Day 10 at the earliest!) Some of it is too high to reach from the step ladder while leaning across the void, now that I am not putting the rear tire on the curb. Gonna have to come up with a plan for this.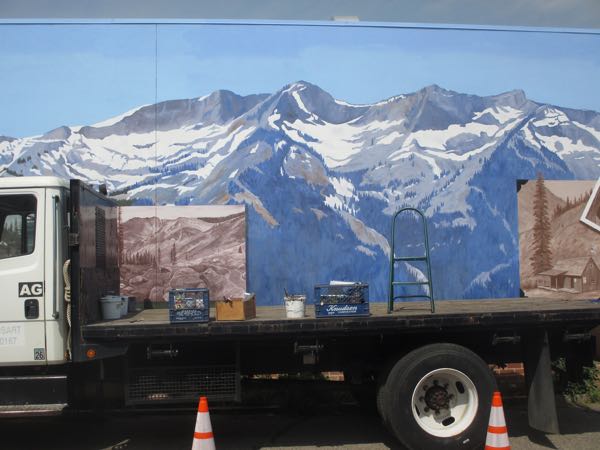 After 2 hours of painting, this is all I've done?? It is probably a lot of real estate, but in contrast to all that remains, it ain't much. That's okay, this is only day eight. There's plenty of time. . .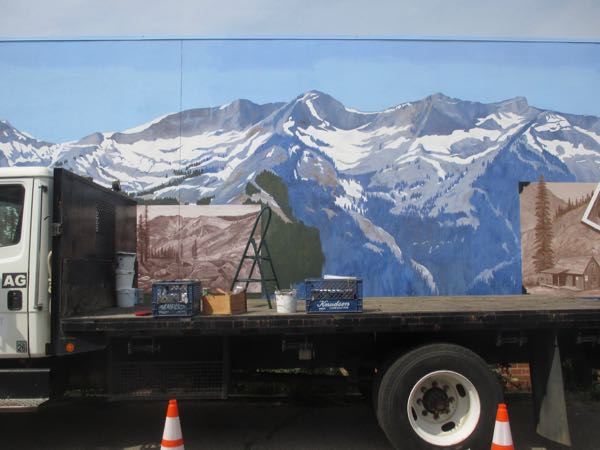 At quitting time, which was only around 3:30 (what a wuss), this is all that was covered. I also poured some paints from the buckets into the little containers, mixed some more gray and another green, and talked to a lot of people. (Didn't want you to think that all I do is stand around and paint.)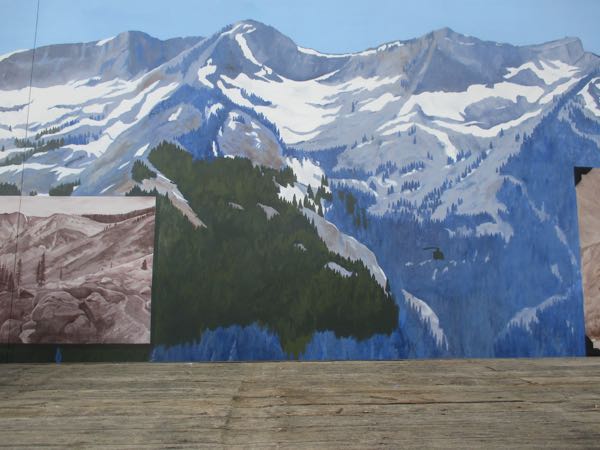 Look at the day's interactions:
Anibar and Marcos from the City of Exeter checked in to say hello and exchange small talk about our weekends.
Dan from the large and well-stocked antique store The Grove stopped by to introduce and be friendly.
Mrs. Homeowner of the Three Rivers house that I painted last year came by. You can see her house here.
A couple of guys walked past and commented that, "Some tough people lived in those houses!" They were referring to the cabins in the snapshots on the mural. I said that they were summer homes only and that I thought it took more toughness to deal with the summers down the hill than to live in cabins up the hill.
A woman came by from Tulare who said she's about to move to Colorado. We had a nice conversation about what it is like to radically change locales. She's lived in lots of places, and said the best thing she does is to first find a church. Then the other things work themselves out. I was severely traumatized by moving the 14 miles from Lemon Cove to Three Rivers 18 years ago, and can't imagine changing states (although it is tempting at times, particularly tax time, election time, bad air time, Sequoia prescribed burning time. . . never mind.)
A man and woman stopped by on their lunch breaks. He sells Kirby vacuums door-to-door and is an ex-Marine. Very engaging guy, probably does well. She works for Monrovia Nursery, grew up in So. Dakota, and hasn't yet experienced summer here. Good luck!
Tim and Elizabeth from Stanford University stopped by. He is now working in ag around here, she isn't yet graduated, and they are very interested in Mineral King. Welcome, and I hope to see you this summer up the hill!
Joanne, a mural tour guide stopped by, so I showed her the latest hidden item.
Anibar and Marcos stopped by again on their way back to the City yard for the day. Really nice guys, and very hard-working. I feel as if I have a pair of protectors near by, not that I need any.
No painting on Tuesday or Wednesday this week. If it isn't raining, I'll paint Thursday, Friday and Saturday.