In 1994 I was commissioned by a woman to do 2 pencil collage drawings as gifts for her sons. Their last name was Dalton, and the young men had started a company to sell a special recipe of BBQ sauce, capitalizing on their ancestors, the notorious Dalton Gang. The gang robbed a bank in Coffeyville, Kansas and died in the raid, along with 4 innocent citizens. This incident in history is a huge part of the identity of Coffeyville, 125 years later. (It happened in 1892 – did I do the math right?)
In the past handful of years, I have become friends with a woman who lives in Coffeyville. (Yea, internet!) She is a writer and blogger named Cheryl Barker and this is the link to her site. When I learned where she lives, I told her about the drawings and she was very surprised that I had heard of Coffeyville at all. (She had never heard of Three Rivers, duh.)
I told her if I ever found pictures of those drawings, I'd send them to her.
Last week I was procrastinating (quite productively, thank you for your concern), and decided to have another look.
Wow, in the last century I kept appallingly horrible visual records of my work. Here are the two pencil drawings, after scanning the horrid photos and working a bit of photoshop magic on them.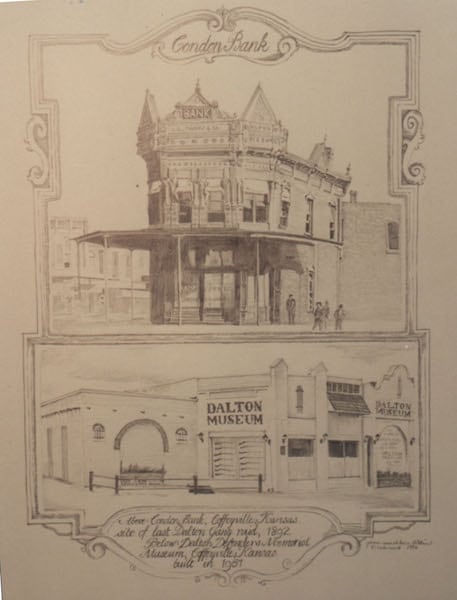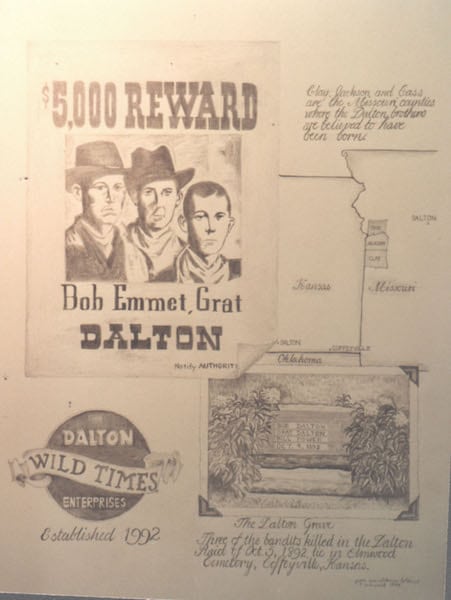 P.S. I googled Dalton Wild Times Enterprises and found nothing.