Sometimes people think artists are weird.
I think everyone is normal until I get to know them.
I did a mental inventory of all the chairs in my house. (Is this weird? Never mind. Don't answer that question.) As I moved from room to room, I realized that EVERY SINGLE CHAIR IN MY HOUSE is a salvage, a second-hand, a "sure, I'll take that".
A few weeks ago, Trail Guy and I were at a dump. (None of your beeswax, but thanks for your concern.) I saw a chair, and knew it was meant for me.
It was a mess, but a classic shape, sturdy frame, and just what our green room needs. The green room is a little empty, and I've been thinking about what might be good in there. This chair is just what I had envisioned.
I chose fabric that I thought would suit the chair (a vague blurry bit of it is in the foreground of the photo above) and took a few photos of the chair.
When my favorite upholsterers received the photos, this was the response: "This is a 1950 vintage chair. very popular because of the great lines and comfort.  We can repair the back leg or replace. With a new cushion you will have a beautiful chair."
How beautiful? I almost choked when he named the price.
The senior upholsterer said that when it is finished, it would be worth $1200! I told him I couldn't afford a chair of that quality or value. Remember, I find my chairs in the dump! (or yard sales,other people's garages or thrift shops)
I thought about taking the chair back home again, but realized I'd have to unload it. Then I'd think about it for awhile, adjust to the price, make arrangements to load it and take it back to Visalia.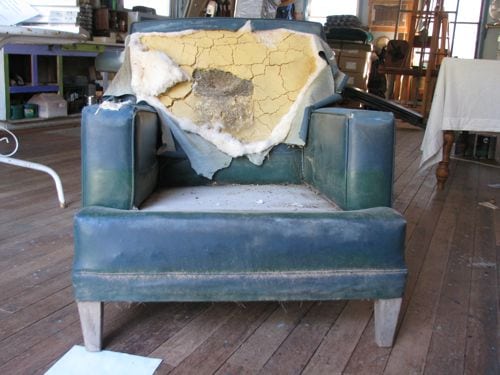 It is a mess, but can't you see the possibilities here?
Weird? Or resourceful?
It is so satisfying to find something of potential value, to salvage and repair, to find completely unique things, to own items with a story, to enjoy things that are lasting, timeless, and classic.
The upholsterer said it would last 25 years. I thought, "IT HAD BETTER!!"
Uh, does anyone want to buy a coloring book? One hundred coloring books? Or how about an oil painting? A really large oil painting, perhaps?
I'm in a show soon at the Courthouse Gallery in Exeter. Bring your checkbook.