"Commissioned Pencil Drawing" is a straightforward title for a nice story of friendship and inspiration.
I have a friend from summer camp when we were in grade school. We cannot remember the summer we met. We lost touch. She and my older sister became friends as adults.
Last summer I was reading one of my favorite blogs, Happier by Gretchen Rubin. Love her writing, her podcast, her way of thinking. . . for some reason that particular post was so interesting to me that I took time to read the comments. I recognized the married name of my old friend in one of the comments! Her name was clickable, so I followed links, found a picture and recognized her! She had her own blog and a contact button, so I emailed her and she REMEMBERED ME!
But wait. It gets weirder. Would you believe that is the only time she has EVER commented on a national blog?? And it was the only time I have ever taken the time to read the comments on Gretchen's blog?
We now have a great email correspondence and have gotten together several times. She is a fabulous human, a deep thinker, a thoughtful and kind person, and a Major Blessing in my life. To protect her privacy, I will call her "Found Friend".
What does this have to do with a commissioned pencil drawing?
Found Friend spent a bit of time at St. Anthony Retreat Center in Three Rivers several years ago, and was struck by a view out the windows of one of the chapels. When she visited me this spring, we went there and sat inside that chapel so she could show me the view because she wanted to commission me to draw that view in pencil.
She insisted that we conduct business in my normal way, no special friend discounts or freebies. This always feels weird to me, but I remember something a wise friend told me years ago: "If your friends won't do business with you, who will?"
Here are a few photos I took that day.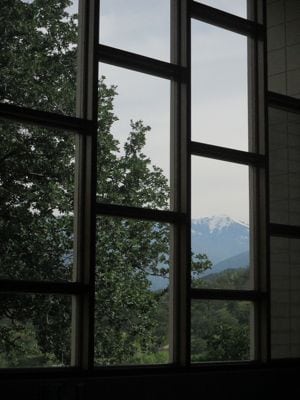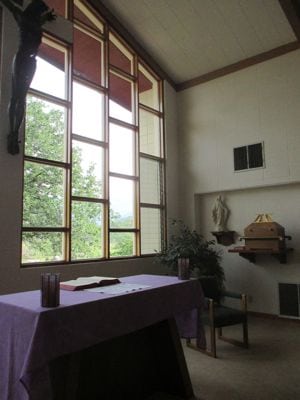 Tomorrow I will show you the 2 sketches I did for my Found Friend to consider and choose.
Coloring books will be available again on July 1, 2016. You may order, but it will involve a wait.