Do you live near a beautiful place but don't go there? I live in Three Rivers, just minutes from Sequoia National Park, and don't go very often for a variety of reasons. It costs money, the lines are long, I am working. . . not all these things are true all the time, so I have to pay attention to when they are not true.
A few days ago, a friend invited me to join her for almost-full moon viewing, photography and sandwiches from Sierra Subs (the best food in Three Rivers).
She picked me up at 6, and we headed up to Hospital Rock, and then down the road to Buckeye Flat Campground. The yucca are in full fluffy bloom, and she was hoping to be able to photograph them by the light of the moon. (She is very knowledgeable about photography and has great gear.)
I gave my tripod to my nephew because he needed one and it no longer fits my life or cameras. So I decided to just try and hold still for the low light. My camera has lots of controls that don't make sense to me, so I just experimented. The experiments, combined with some computer adapting, gave me these results.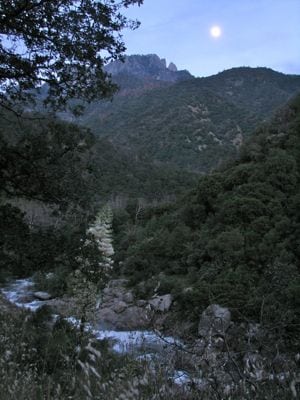 I relearned some simple good things.
It is good to visit beautiful places that are close. Makes me feel as if I've had a mini-vacation.
It is good to do simple things with friends.
It is good to just spend time in a place, sitting, looking, listening, feeling, (slapping mosquitoes, not so good), eating simple food, visiting. No rush. The more time you spend, the more you notice and appreciate. Just be there. (Danged mosquitoes!)