I love to teach people how to draw.
Every Tuesday afternoon, people come to the Courthouse Gallery in Exeter for lessons. Four people for an hour at a time, each one working at his own pace on his own drawing. (Yes, I know it is acceptable to say "they" as a singular pronoun now, but I cannot. Can not.)
Sometimes I demonstrate some drawing techniques to a group. Two weeks ago I did this for the Tulare Palette Club, a delightful and attentive group. I sort of talked a little bit too long. They were gracious, but told me to shut up at 9:05. It was very fun.
And occasionally someone makes an appointment and comes to my studio for a private lesson. This is also great fun. I find out why she wants to learn to draw and tailor the information to her specific needs.
Equal opportunity here: "his" in the 2nd paragraph, "she" and "her" in the previous. No "they". However, the Theys used to live up the road from me. Had a sign in their front yard – said "The Theys".
I am not making this up.
And I don't make up stuff when I teach people to draw. I help them all learn, and we all have a great time.
Are you interested?
Here is a sample to whet your appetite: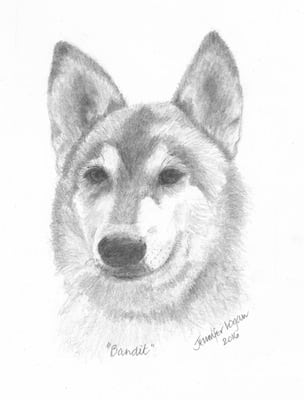 This pencil drawing is "Bandit" by Jennifer Logan. She has been taking lessons from me for about 3 years.
You can learn more here: Lessons.