This was a day of tiny little branches, painted while sitting, kneeling and standing on the scaffolding. The most difficult part was not falling into the branching pattern of a Valley Oak. (Did you think I was going to say "not falling off the scaffolding"?)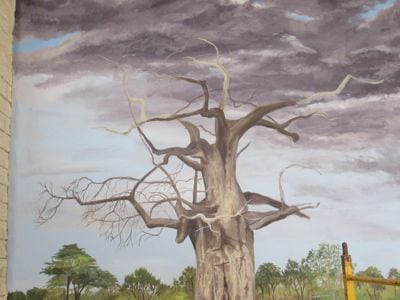 I had to draw these branches with my brush, which never works as well as a pencil. Lots of climbing up and down to see if the branches were growing correctly.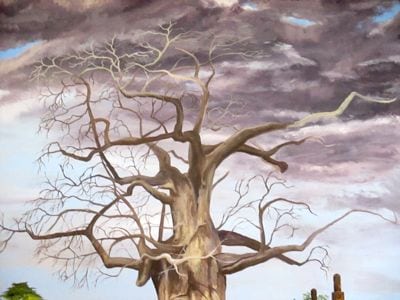 I adjusted the lightness and darkness of the branches to make them show up against the sky.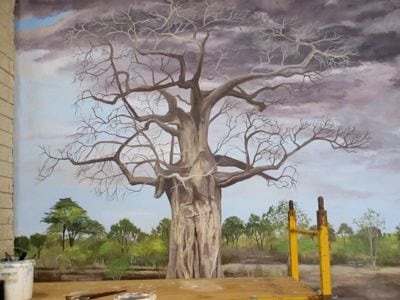 Such an unusual tree, the baobab. There are several varieties, but this is what I know about this type: very old, huge thick trunk (up to 36′ in diameter) that immediately narrows, and a flattish top. Sometimes it is called an upside down tree, because when it is leafless, it looks as if its roots are sticking up in the air.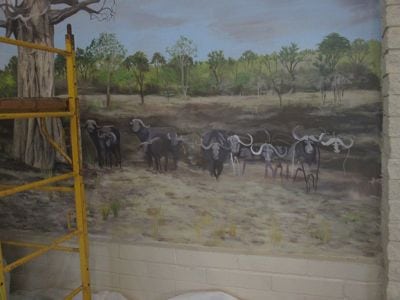 Those cape buffalo. . . sigh. I tried a few new ones, then erased the ones on the left. Mrs. Customer was horrified, because she liked them. She loves buffalo – they are her favorite African animal! (I lean toward zebras, those cute little horses in striped pajamas. . .)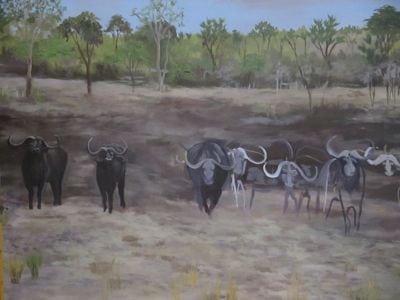 Okay, now we're cooking with gas. If I can see them, I can paint them. The 2 on the left are looking good!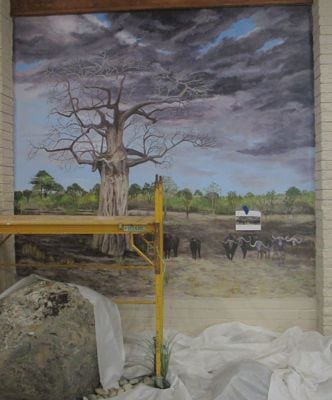 The end of the day: 4 buffalo completed, 3 to go. That thing on the wall is the photo I used for the last 2 buff. Cape buffalo, an interesting animal, one that kills more hunters than any other animal in the entire African continent. It was killing me until I found legible photos.
Only 1/2 day remaining . . . might as well tell you about it now.
Today's assignment shouldn't be all that hard: paint 3 cape buffalo from a photo where the shapes are more discernible.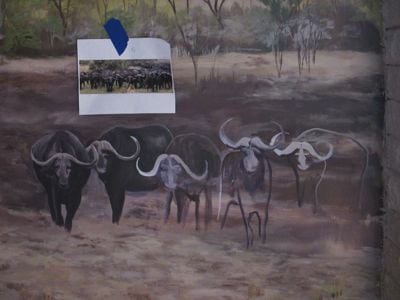 Umm, does anyone know a good veterinarian? These critters look to be in severe distress.
Okay, this is better. It had better be. If I put any more paint on these creatures, you might be able to carve them.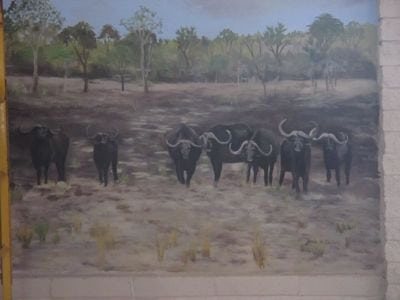 I added more texture to the ground around the herd. Suddenly it all seemed too hard, and I didn't think any more brush strokes were going to change the mural. It was time to sign it. Customer was away for the day, so if he calls and wants anything changed or messed with, I'll return.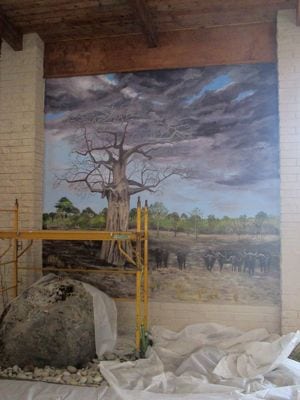 Since I was unable to lift the scaffolding over the boulder, this is the best photo I could get. I guess a return trip will be necessary.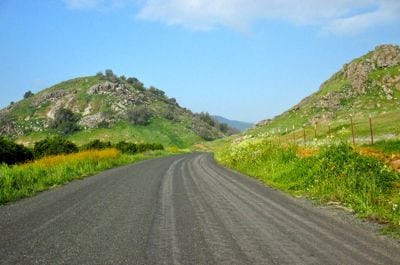 I will miss Customer and this beautiful drive.