There is a terrible wildfire roaring along in the Sierra Nevada, in Kings Canyon National Park, just north of Sequoia National Park. Mineral King is on the southern end of Sequoia, but it got plenty of smoke from the "Rough" fire. It was named for the location where it began, a place called "Rough Ridge". The name is very appropriate, because it is a rough fire indeed.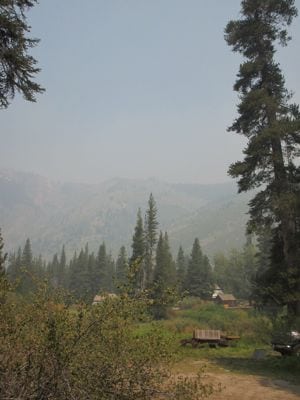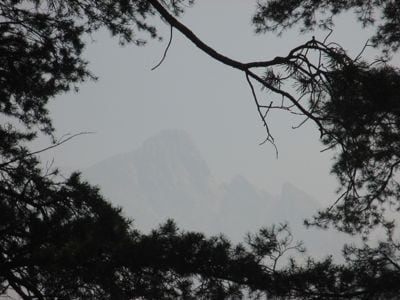 Timber Gap and Empire are barely visible.
Okay, forget about hiking. Let's sew instead.
Sew? Did she say "sew"?
Indeed.
I sold my treadle sewing machine to my cabin neighbor and then spent the weekend setting it up, teaching her to use it and helping her make new cabin curtains.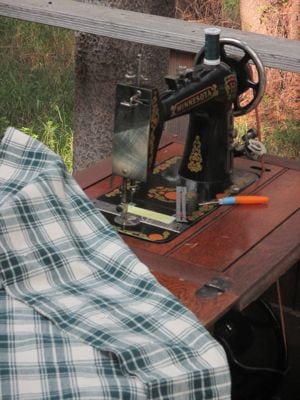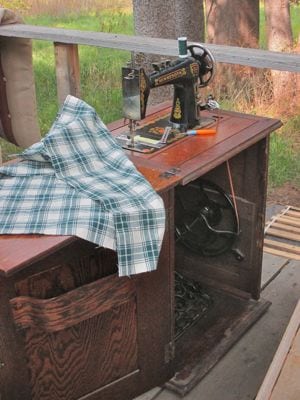 No electricity required for this beautifully effective piece of machinery. You just put your foot on the treadle and begin to peddle.
I didn't photograph what we used for ironing. It was a Coleman iron, supposed to be powered by white gas, but instead we heated it on the wood stove.
I am not making this up. Did you doubt me, an axe-wielding, wood-stove-cooking, knitting, Central California Artist, surrounded by those who understand this bizarre way of life??
The day we headed back down the hill was a clear day. Why?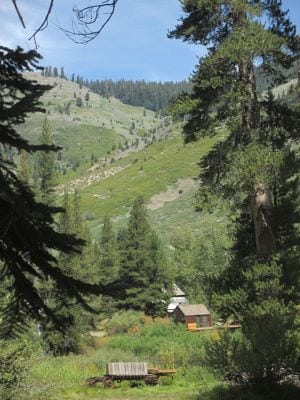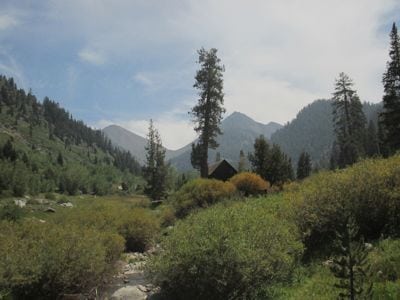 "Clear" is a relative term. Normally we'd call this a cloudy day, but after the horrors of breathing smoke for 2 straight days, this is wonderfully clear. The Rough fire continues to wreak its havoc, but the smoke didn't come to Mineral King for this day.
And here is my favorite bridge on the way home. I don't want a fire here, but it would clear the view to the Oak Grove Bridge if one happened.