We are having an extreme family emergency, and it is causing me great distress and lack of focus.  If I don't go into detail, perhaps I can live in denial. If you are interested, you may read about it here. (my brother-in-law) Meanwhile, random thoughts from a chaotic mind. . . If I dabble in this and that, it has to add up to productivity eventually, dontcha think?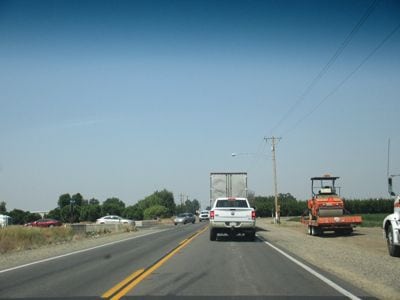 This is what it looks like to drive in the countryside of Tulare County in Central California. Doesn't it just make you wonder why anyone lives here? Or how an artist can persevere to find things to draw and paint?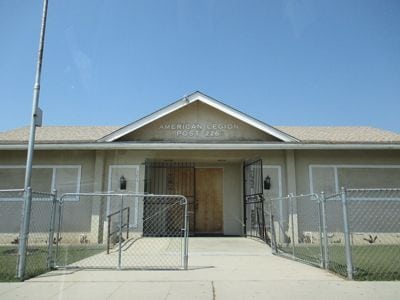 This is the place where the Orange Cove Lions meet weekly. Their scheduled speaker cancelled, so they called me. Sure, I'll speak to your group! What a great group of guys – I felt right at home. Citrus farmers, rural Central California folks – my kind of peeps.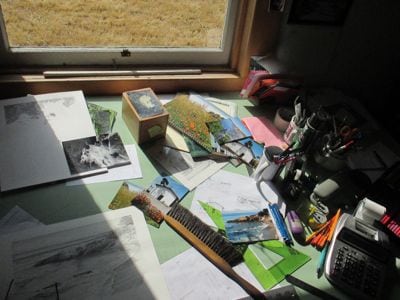 And this is what my drawing table looks like right now. 2 drawings in progress, working from many photos, adding a little colored pencil, all because it was too overcast to see to paint. The sun came out, so I took this photo, moved into the workshop to paint, and then, bye-bye sunshine. What's a Central California artist to do?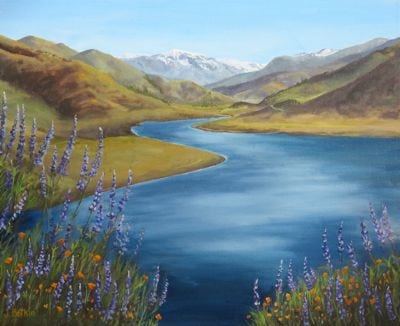 In other news, I messed with this painting a little more. A bit more light on the water and brighter colors in the flowers.
Is it finished yet? Will I finish anything – a drawing? a thought? a task? Can't think, can draw.