Two years ago I published a calendar of oil paintings.
Last year it was a calendar of photography. (I was too busy drawing The Cabins of Wilsonia to paint.)
This year it will be a calendar of oil paintings.
It will be called Beautiful Tulare County. If that sounds like a joke, stop being cynical! There are beautiful places and times of year around here. It is my business to find those places and times, and then to share them with you.
The calendar's pages will not be precisely seasonally correct. They will be close, but summer is a dominant season around here, so those types of paintings will be dominant in the calendar.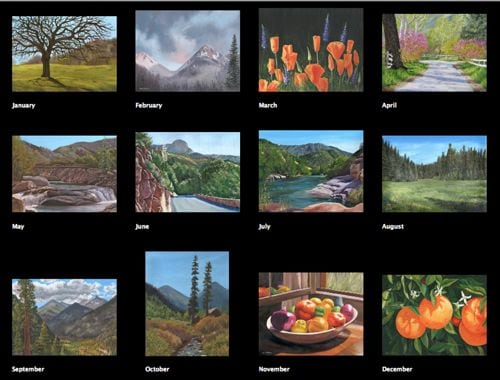 Waiting for the price from the printer (NOT the book printer!!) and the estimated time of arrival before making them available for purchase. I'll make it an easy price, a round number that includes tax and mailing costs.