With the first fall show coming on October 11, the pressure is on to get some paintings finished, signed, dried, scanned and varnished. Let's see what is in the painting workshop.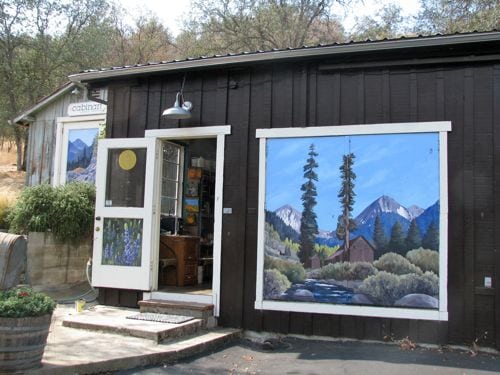 Yikes. This photo shows me that my Mineral King mural needs to be freshened up. Wouldn't it be fun to repaint it every 3 months to reflect the actual season? Forget it – I have to finish paintings that can be sold!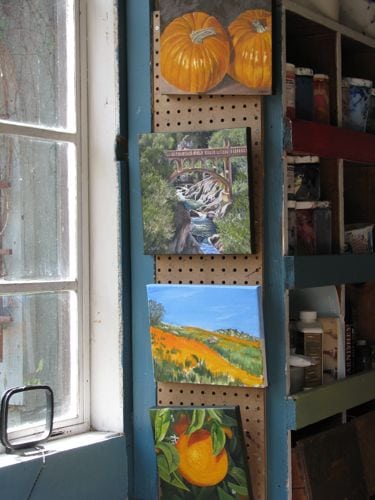 I had no trouble finishing these pumpkins. The bridge might be finished. The poppy fields are rough – this is after one pass over the canvas. The orange wants a few more blossoms.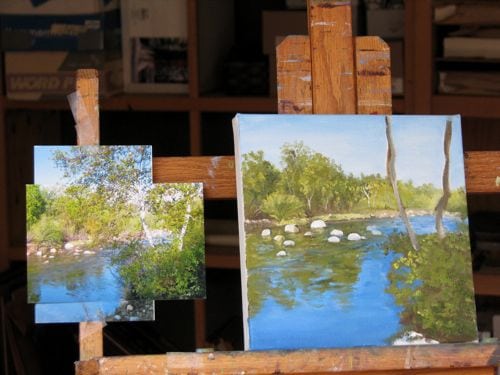 I thought this would be too hard, because it is a challenge to turn 2 rectangular photos into one square scene, and real life is very messy so I'm trying to clean it up here. The rocks and background trees have been really satisfying. I love detail – did you know that?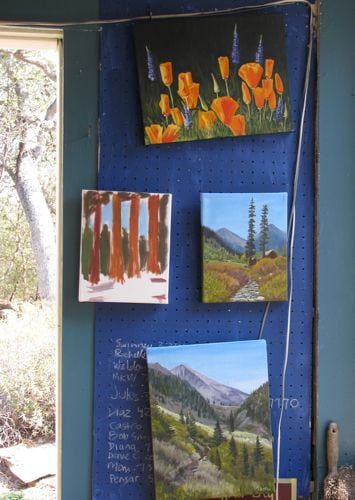 On the advice of a trusted friend, I added more foliage to the poppies. It probably isn't enough to suit her, but I like it. Those 4 orange poles will become The Four Guardsmen, 4 sequoias you pass among as you enter Sequoia National Park from Three Rivers. There is Farewell Gap (Mineral King) as it appears in early fall – leaves changing a bit, no snow, and very low water. Getting the water and rocks to look right is stretching my limited abilities. And the bottom scene is the trail to Farewell Gap. The light was wonderful that day! It isn't finished in this photo.
Upcoming Show: Taste the Arts, Saturday, October 11, 11-5, downtown Visalia on Garden Street from Main to Oak Streets. (no idea where I will be – I'll just follow directions like a good soldier when the time comes.)
Woohoo, world, I'm going to the big city of Visalia to meet some people and sell some art!
Yeah, I know, I really don't get out much. Visalia is the county of seat of Tulare County, population around 125,000. "City"? It is to me! Three Rivers is 35 miles east and has about 2500 people, including all the part-timers. Just sayin' so you can keep things in perspective from where I live.