If my drawing students learn to draw with graphite pencils – i.e. see proportions, understand values (the darks and lights), understand hard and soft edges, and make the tools do what they intend for them to do, then my drawing students who want to can use colored pencils.
Colored pencils (mis)behave differently than graphite pencils. I've heard plenty of colored pencil artists say the reason to use colored pencils instead of paint is C O N T R O L.
Colored pencils require many many layers, and it hurts my wrist to use them. However, many of my advanced students choose to use them, and in spite of my ouchy wrist, I can help.
It may appear to you as if Mae has copied her photo as efficiently as a Xerox machine. I can assure you that she has done a fabulous job of interpreting the photo and adjusting it so the drawing makes more sense than the photo. She pays a great deal of attention to detail and chooses what to eliminate and what to enhance.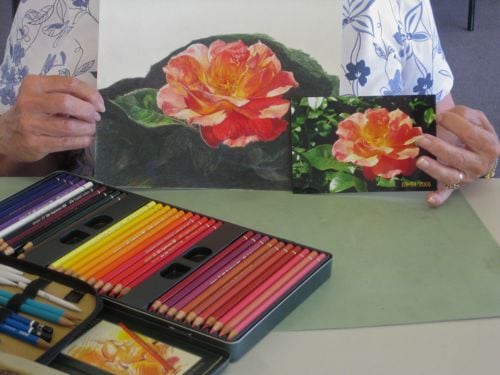 May is using Polychromos by Faber Castell. These seem to be the highest quality for the price that I've used so far. They are oil based, made in Germany, and last a long time. They are a little fatter so they don't fit in our normal sharpeners. They are also a little hard to find if you just want to buy them one at a time.
Prismacolor used to be my favorite. I learned their colors beginning with a set of 12 that my Aunt Shirley gave me when I was in 5th grade. They are wax based,  made in the USA,  and break easily, which is exasperating. They are readily available in sets or in one-sies, and can be repaired in the microwave (but don't tell the company – they don't take responsibility for the breakage and blame the pencil sharpeners, not the rough handling before they arrive in your hands.) I noticed they are now referred to as "soft-core", probably a response to all the complaints!
So, yes, you CAN do this with colored pencils (after hours and hours of practice!)