I began oil painting on March 8, 2006. Sometimes it is hard, sometimes it is really hard, once in awhile it is fun. Sometimes I even like a painting or two.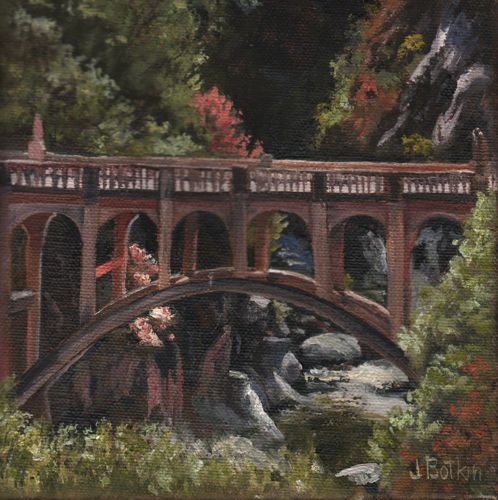 Oak Grove Bridge, 6×6″, private collection, 2013
2 classes at Michael's (the craft store, NOT my husband!), 1/2 semester at the local junior college, reading books, watching videos, reading websites, following artists' blogs, looking at paintings, asking friends lots of questions, painting and painting some more. . . what am I trying to accomplish here? Just trying to "find my voice".
Paint looser. Paint tighter. Hold your brush like this. Stand to paint. Use only flat brushes. Use only the primary colors. Use every color you can afford. Never use sap green. Sap green is the best thing that ever happened to a palette. Never use black. Of course you need black! Paint on location. Forget about painting on location until you are further along. Just get the impressions down. Decide which edges need to be sharp. Paint in layers. Finish a painting with thick paint all in one session. Copy the masters. Work from your own photos. ("All realistic artists either work from photos or they lie about it". –Jack White) Working from photos is horrible – no real artist would ever do that!
The conflicting noises are confusing me tremendously. Secretly (well, not any more now that it is on the blog), I've just wanted to return to the quiet of my studio and draw with my beloved pencils. Black, white, shades of gray, detail to my heart's content, straight edges, measuring tools, magnifying glasses – PRECISION.
Meanwhile, I've been listening to a book called Start, by Jon Acuff. He delves into the stages that used to accompany a person's decades: 20s – Learning, 30s – Editing, 40s – Mastering,  50s – Harvesting, and 60s – Guiding. (Sorry, those of you in your 70s and 80s – Jon ignores you, but I'm guessing that Guiding or perhaps Super Guiding might be the role then.)
No longer are people doing these steps in these particular decades. Instead, people are starting new careers and learning new skills at all ages. (I was 45 when I started oil painting, in case you are wondering.)
So, I've re-entered my 20s when it comes to oil painting, struggling through the Land of Learning.
A week or two ago, I decided I must have entered the Land of Editing. Why? Glad you asked! (All interviews either say that or "Great question!" It is better than saying "you know" twelve times a minute.)
I have decided that I WANT to paint detail and precision, using lots of layers, following similar principles that I apply in pencil drawing. I am editing out the noise that does not move me closer toward this goal. If I have to raise my prices, so be it. The paintings will be worth it.
Denis Millhomme is one of my painting heros. When I asked him to teach me, he said he didn't know how, and that if he drew, he'd draw just like me. I've wanted to paint like Denis from the beginning of this journey into oil, and I know I never will (he has a huge head start!), but I can stop trying to be like all those painters who slam them out quickly. Denis doesn't have to, and neither do I. So there, all you noise-making folks. I get to choose how I want to paint, and I believe I have now chosen.
This is one of the paintings I did where I took all the time I wanted, striving for perfection. I like it a ton, and so do the wonderful people who bought it. (Try not to lick your screen, 'k?)