Back when I had a list of 80 people waiting to get into my drawing lessons (dang, what happened??), I met Nikki Crain. She eventually became one of my drawing students, and we became friends. Not only does she draw very well, she is a master weaver.
We have done many shows over many years together. (I used the word "many" too many times and it has ceased to look right to me. Isn't that a weird phenomenon?)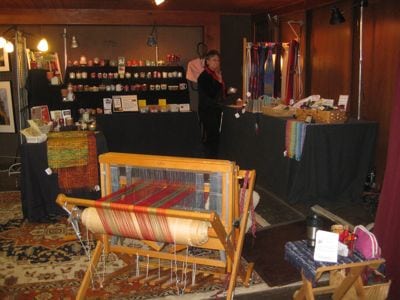 We like to be neighbors on the stage at the Perfect Gift Boutique, where we often help one another set up, talk to customers, and pass time between customers.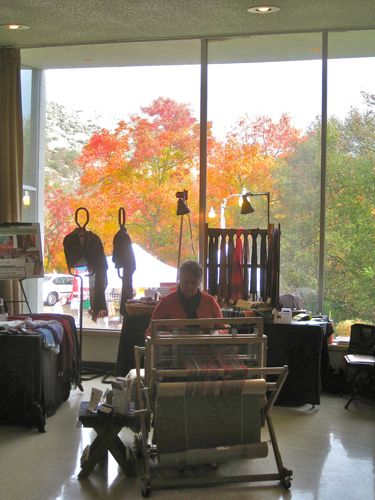 We enjoy the Senior League Bazaar each year at the Three Rivers Memorial Building. Nikki weaves and educates customers about weaving, the Fibonacci sequence of numbers, how to wear a shawl or a scarf, fibers, soy candles, and just stays cheerful and helpful. That in itself is uh-MAY-zing.
One time I handed one of my plates to Nikki and she made some wonderful placemats to match.
 The mini version of the placemats,  called "mug rugs",  are coasters that don't stick to the condensation on your cold glass and then drop off in your lap and startle you. They are beautiful and useful, a winning combination.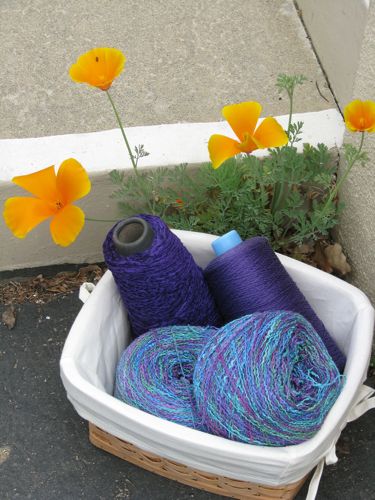 Nikki and I spent a morning together so that she could learn more about blogging. It was fun, of course, and now you can follow her beautiful work on her blog, Handweaving by Nikki.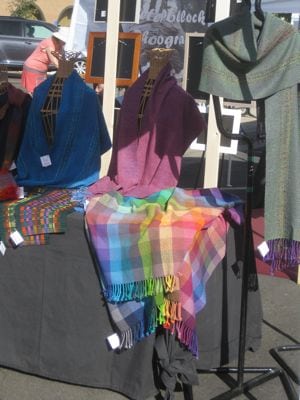 Nikki usually opens her Three Rivers studio on First Saturdays. You can see her looms, her fibers, her work and her amazing self!