Did you read my post from Friday? It was called "What Happens in My Brain", and I said at the end, "This is hard – maybe I should just go to Chicago for a weekend. . ."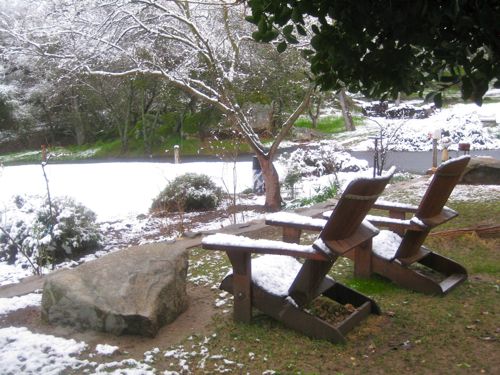 The snow in Three Rivers was so fun that I decided to go to a place of true winter.
I went to Chicago for a weekend. Actually, I visited Cousin Maggie in a suburb for a few days. I'm not making this up. (And Scott D., I emailed you to try and connect, but am wondering if I sent it to an old eddress. . . ?)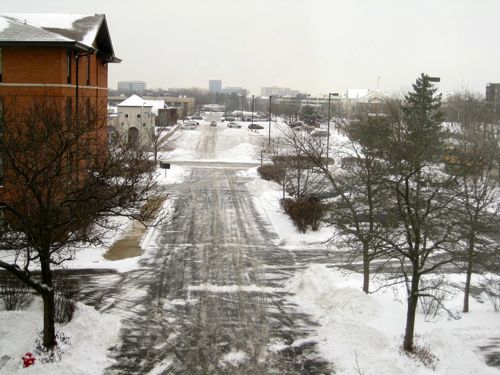 This was the view out of the hotel window the first morning.
 My dear friend, AKA The Captain, went to a suburb of Chicago to bury her aunt. Turns out it was the same burb where my dearest Cousin Maggie lives. That's not the sort of coincidence one can easily ignore.
She drove me to Cousin Maggie's house, but we chose not to take the rental car up the unplowed driveway.  Do I get any dorkier than this? Never you mind.
This is the first real live cardinal I've ever seen! They resemble our scrub and stellar blue jays, and I was just beside myself with excitement. Is that dorky? (Don't answer that!)
I went walking in the woods behind Cousin Maggie's house. It is a deciduous forest preserve, and I would LOVE to see it in the fall. It was cold, but I had my trusty LL Bean boots, and lots of wooly knitted items. It was very satisfying to actually need all those things I've been knitting all these years.
Everything looked beautiful to me. I love to see new things, to explore and to discover. . . although I have to admit that while we were sitting in the San Francisco airport ready to take off for Chicago, I told The Captain that I couldn't wait to get home. My travel muscle is a bit flabby – love to BE there, but oh my, the effort is stupendous.
To be continued tomorrow. . .