Washington is a fantastically beautiful state. I've been there in many seasons and loved every one. The rain doesn't bother me because I get to go home. The gray sometimes feels like a relief from relentless sunshine. Grape hyacinth become naturalized. There are trails in neighborhoods for walking. Churches offer coffee in their lobbies and they recycle their bulletins.
In summary, the grass is greener on the other side of the border. (2 borders, actually)
Here is what I experienced while visiting Carol in Washington. (Carol and I have been friends for 35 years – isn't that a rare and wonderful thing?)
I began the design of The Cabins of Wilsonia with Carol's expert help on Adobe InDesign.
We took a ferry to Whidbey Island on the only day that had sunshine.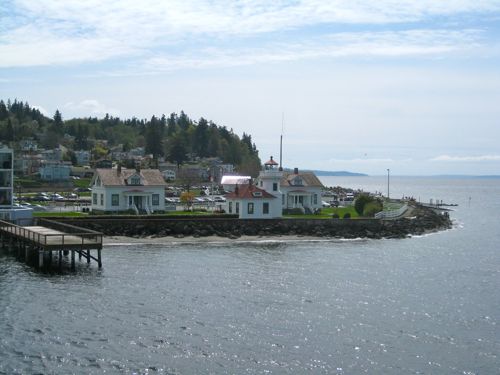 Okay, that's all for today's list, because I want to tell you our Whidbey Island story. We had hoped to ride the free bus on the island to visit a town called Langley, about 6 miles from the ferry. Then we learned that the buses don't run on Sundays.
While on the ferry, a nice lady named Jackie took a photograph of us together. (My hair was all wacky in the wind and I looked fat, so I deleted it. Thought I'd spare you the visual assault.) We got to visiting, and when I suggested to Carol that we hitchhike to Langley, Jackie laughed and then offered to take us there.
We could tell Jackie was a great Mom because of her daughter's reaction. When we got in the car with her and her 2 daughters, her 13-year old was HORRIFED! "Mom, do you KNOW them from high school or something?? What are you doing?? Are you serious??" The look on her face was priceless!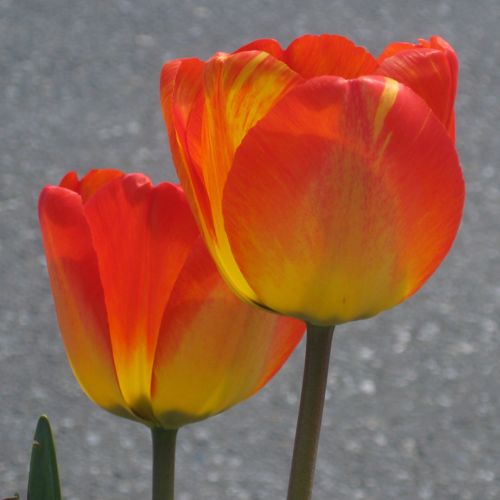 If I paint tulips, my followers might think I've just messed up my poppies.
Langley was beautiful. I could not stop taking photos of tulips in the sunshine, which were in everywhere. The water was visible from many places, and the town was fun even without a yarn store.
Why does everything next to the ocean look more appealing? In Tulare County, the supreme compliment a business can receive is "Oh! This looks like something at the coast!" The buildings have more style, the shops are well-maintained with interesting names, the gardens are lush, and even the fences and gates are creatively built. (And I'm sure the children are all above average, too.)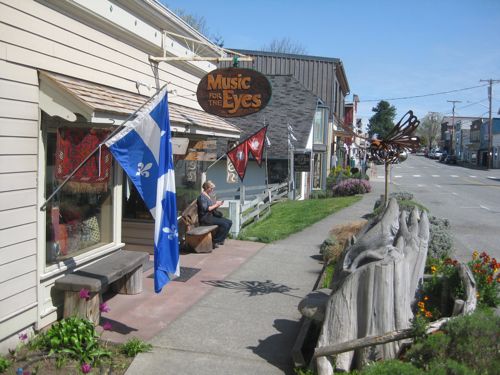 Can't remember what the shop was about, but loved the name.
Just your average coastal type fence, I guess.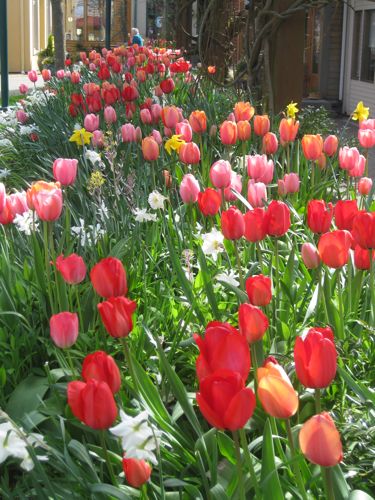 No big deal – just toss a few bulbs in the ground. Maybe there are no squirrels there? No gophers? No deer?
Did you know that Washington State Ferries are push-me-pull-yous? The captain just moves to the cockpit pilot house on the other end instead of flipping a U or using reverse. (Is it a cockpit? Is there a reverse? Life's full of questions.) (Thank you, Gus, for teaching me the correct terminology.)
Jackie and Carol texted one another while we poked around town, and then she picked us up to take us back to the ferry! We figured we could walk the 6 miles if necessary (or hitchhike?), but sweet Jackie was there again! Her daughters were really quite lovely – polite, interesting, and adventuresome. Carol and I decided to walk the last 1/2 mile or so to the ferry instead of waiting in the car line, and then we had to RUN to get on board! (Did 52 year olds run in the olden days? I don't remember seeing it happen when I was a kid, but of course I didn't know anyone that ancient other than my grandmothers, and they certainly didn't run.They had to have been waaaaay older than 52.)