Happy Birthday, Elder Sister!
This photo was taken in my yard on March 15.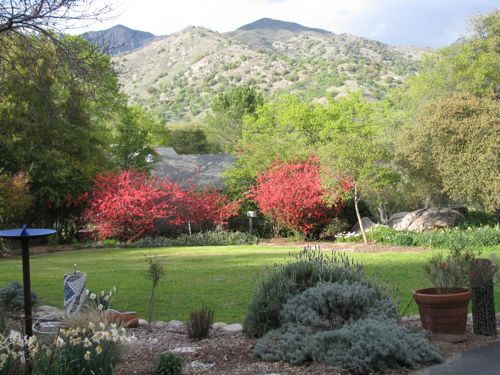 This photo was taken in my yard on March 18. I live in Central California (I am a California artist, remember?) at an elevation of 1000 feet. One thousand, not 10 thousand. Three Rivers, California.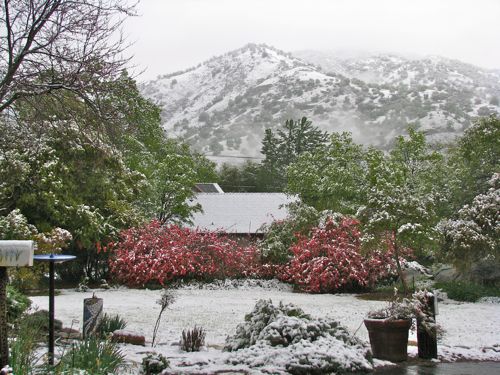 How does this apply to art, California Artist?
So glad you asked that question! When working from photos (and Jack White said all realistic artists either work from photos or they lie about it), it is sometimes a temptation to work from something that is unusual or peculiar. Problem with that approach is that a drawing or painting of something peculiar looks as if the artist doesn't have a firm grasp on reality.
People are still convinced of the truth of photographs in spite of Photoshop.
Back in the olden days when a camera was a camera and a phone was for receiving calls in one's home or office, photographs were taken on special occasions. One time some folks wanted me to draw all 4 homes their mother had lived in her entire life. I think two were in Los Angeles, and two were in Exeter. Three of the photos they provided me were of the houses in the snow! WHY? Because when unusual things took place, the camera came out to record the event.
It wasn't typical back then to take pictures any time you desired. I used to be a bit of a maverick, keeping my camera in my car at all times. And not only did I keep one, but I kept two with me. One had color print film and the other either had black and white or slide film.
Why did you always have cameras with you, California Artist?
Great question, I'm glad you asked that one. It was because I had to be ready to record the beautiful things and moments and light of every day life, not the peculiar sights!