For a few months I've been dancing around the subject of a Very Large Project on the horizon. Today is the day to tell you all what it is. It isn't a very well kept secret, just a non-published-on-this-blog secret.
If you know me, you know I love to draw in pencil and that I love to draw cabins. Little cabins, big cabins, they inspire me to draw. So, The Cabins of Wilsonia, a book of drawings of (duh) the cabins of Wilsonia is underway! It will be similar to The Cabins of Mineral King.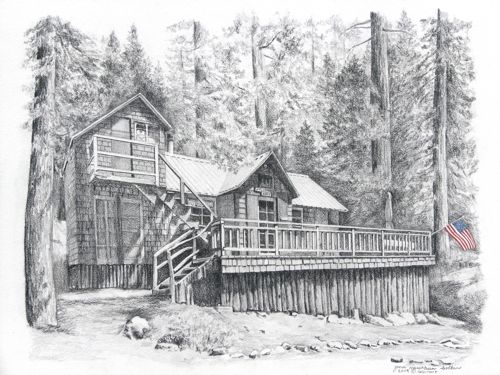 There are differences.
1. It will contain very little history  because I'm an artist, not a historian, and the history has already been written in several forms.
2. I will be doing this one solo instead of with Jane Coughran, the very qualified former picture editor from Time-Life Books who was my partner on the Mineral King book.
3. It may not contain any photographs, because there are more than 3 times as many cabins in Wilsonia as in Mineral King.
4. It will take longer than a year to produce because it is a bigger book (226 drawings, at least 128 pages and probably more) and I have to learn how to do the designing on my computer all by myself. (deep breaths, deep calming breaths. . .) I'm aiming for Memorial Day of 2013.
5. The cabins won't all be represented – there are just too many!
6. The cabins won't be identified by name. They will be in chapters by street names.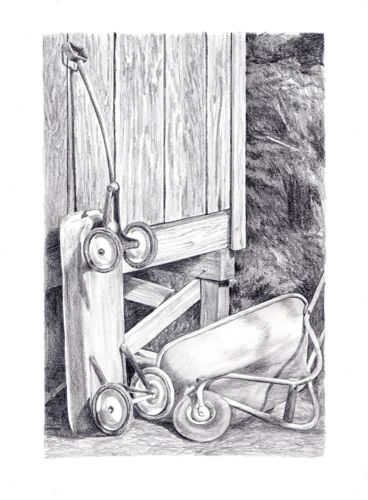 There are similarities.
1. It will contain pencil drawings.
2. It will contain quotes from cabin folks.
3. It wil be hardcover (yes Brad, I listened to you!), horizontal in format.
4. It will contain some history and explanation of Wilsonia.
5. It will be self-published. This is the way Janey and I did our book in 1998, except technology has changed DRASTICALLY. There are plenty of assisted self-publishing sites out there like Lulu and Blurb and West Bow Press, but I won't be using them.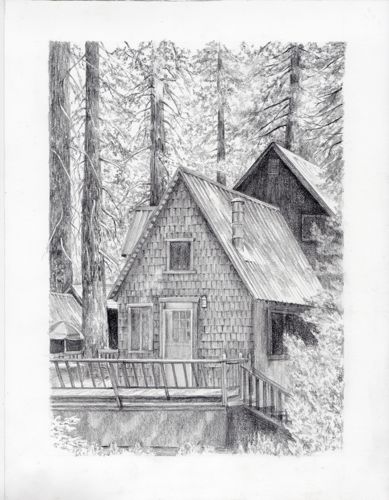 There are challenges.
1. 226 drawings to complete and scan.
2. 40-something quotes to gather and verify.
3. Adobe InDesign to learn to use.
4. Writing the text.
5. Finding a printer.
6. Finding a binder.
7. Selling them all!!
Happy New Year!
This California artist blog will resume the blog's regular posting schedule of Monday through Friday, 7 a.m. Pacific Standard Time on January 3, 2012.