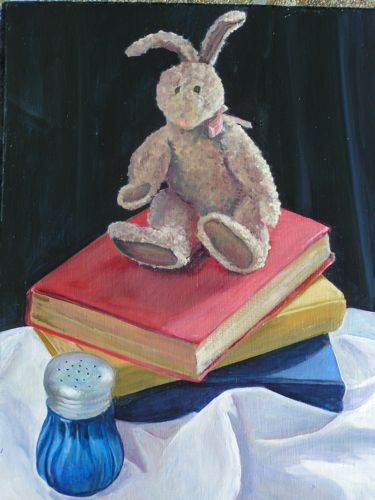 This weird little painting was an assignment in my short-lived oil painting class. Anyone have an idea for a title?
If you are like me, when you visit a blog you like to see how many comments a post has and sometimes you even read them. My blog doesn't have very many comments to read. Many of them come privately to me via email, so you all don't get to see them. (I'm not just saying this so that you will know I have readers.) I'm saying this because someone suggested to me via email that I post a list of books I am currently reading. My first thought was "Why?" My second thought was . . . never mind, such a cliche that you can probably guess it!
Entreleadership by Dave Ramsey. (Thank you, Chris LoCurto!) I love business type books and am always looking for hints and ideas of how to tighten up my own little operation. Dave writes the way he speaks, so this book was easy to read and full of material to mull over. Like most really good books, it should be read over and over.
All Wound Up by Stephanie Pearl-McPhee (aka The Yarn Harlot) Stephanie is one of the few authors whose books I just buy. No question – click, spend, own. All of them. She is a knitting humor writer. This book might be her best so far and includes more than just knitting essays. She is smart and funny and I love her!!
The Sierra Nevada Before History by  (my very dear friend) Louise Jackson. This has been on my stack for a year, and it is time. TIME. Past TIME!! Just finished the intro this a.m. and I can hear Louise's voice as I read. (In case this is easier for you, here it is on Amazon and it is also available at The Book Garden in Exeter.) I am looking forward to this one, especially if the intro is any indication of how interesting it will be! Here is one more link about this one: my drawings are in it! Two, actually.
What are you reading? I'd love to hear your favorites so I can add them to my list!