A pair of friends backpacked from Mineral King to Crescent Meadow. Michael (my husband) brought their van down to Three Rivers, and I drove up to Giant Forest to pick them up 6 days later.
Much has changed in Sequoia National Park over the past 10 or 15 years. I followed Clueless Clive from Illinois for the entire trip up. He was clueless about the fact that if someone catches up to you, she is driving faster than you are. He was clueless about the purpose of turnouts to allow the faster follower to pass.
We waited for 15 minutes at this lovely view spot for the light to turn green.
Light? on the road to The Park? Yep, road work is now a regular part of a trip to The Park, and it includes delays, torn up road, single lane stretches, and no view from Amphitheater Point because it is full of construction equipment.
Then, when the downhill traffic has passed, the light turns green and everyone proceeds in a pack for the rest of the drive.
Despite the delays, I arrived early so I thought I'd just drive out to Crescent Meadow to meet the hikers there, instead of in Giant Forest as previously arranged. Nope. The road is closed on weekends unless you are a bus.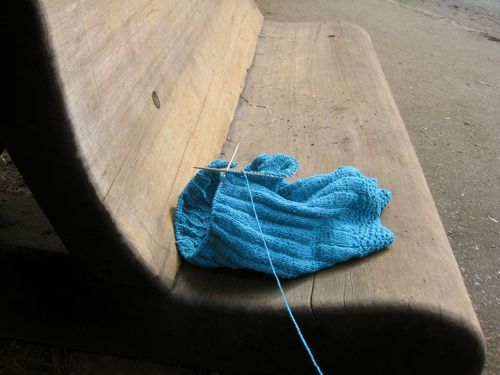 Waiting is rarely a problem for me.
There are huge redwood benches where you can wait for a bus or shuttle, breathe exhaust and cigarette smoke, and listen to idling diesel engines and many languages. The many languages part hasn't changed. I recognized German, Spanish and Chinese. Okay, I figured out those were the languages, but only recognized specific words in Spanish.
"OSO!" Since I had a close encounter with an "oso" last week, I remained on my giant redwood bench while people ran toward him. (When the oso stepped a foot into my cabin last week, I was less than hospitable toward him, and wasn't interested in meeting his cousin.)
It was 9/11 and there was a flag at half-mast in front of the Sentinel Tree. This is the same place where I met President Bush #43 in May of 2001. Security was looser then. We were all less worried, and younger and more innocent about bad things happening to good people.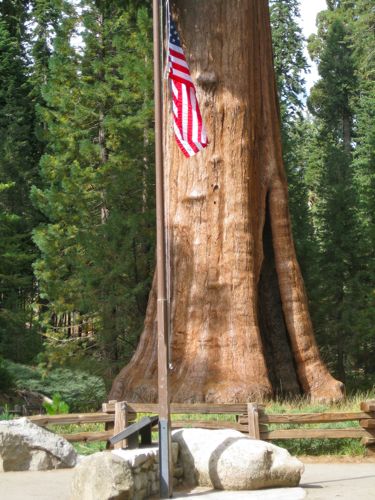 Quite a bit of knitting was accomplished before my friends appeared from one of the shuttle buses. I enjoyed the time without demands, phone, computer, or clocks. A good time was had by all.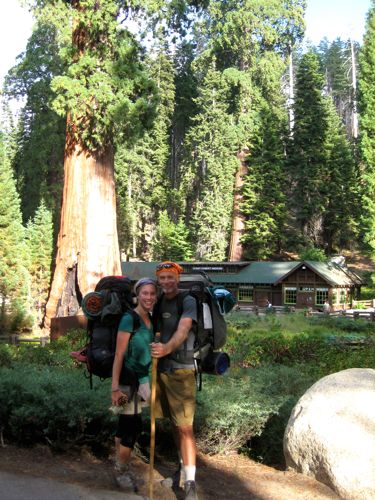 Isn't this a precious father-daughter photo?