Our lawn mowing boy spent a fair amount of time thinking about what Mr. Persnickety told him. "No one has ever done a $4 lawn job for me." He decided that he would be the first. I've forgotten much of what the boy did, but it did involve some sort of a roller device to flatten any slight bumps and there was a nap in the middle of the day so he could continue on in the afternoon. When he had finally exhausted every possible method of perfecting that lawn, he knocked on the door and announced to Mr. Persnickety that he had done a $4 lawn job. Mr. Persnickety was skeptical and began inspecting his work. After going over every inch of his yard, he agreed that the boy had indeed accomplished the impossible and he paid him his $4.
What does that have to do with my art? Hang on, I'm getting to that part! You may have noticed that I don't participate in many competitions or shows that are juried and judged. Earlier in my career, I tried those. After several rejections, (one show was a consistent winner – Madera Arts Council Ag Arts) and after reading a great deal about ways to build an art career, it seemed best to just focus on the local market.
Then, along came the Richeson 75. This is the first show I'd heard of that separates dry media from oils from wet media, which means pencil isn't competing against painting.  Something told me to try this show, and I knew I was facing my own $4 lawn job challenge. (REALLY! That is how I thought of it!)
First, I chose my best subject and found the best possible photo of it. Then, I cropped it to the Golden Rectangle proportions, drew it carefully, shaded it, took it to my students to evaluate, layered a bit more, lightened here and darkened there, put it under a magnifier and sharpened all the edges of the bridge, studied it, changed a few things, and finally, sent it to the Richeson 75 in the Landscape, dry media category.
Rappity, tappity, bingety, BANG, BOOM!!! chhhhhhhh (that last noise was a cymbal.)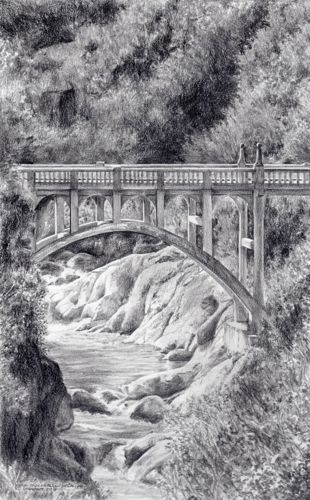 Rural Dignity, pencil, 6×9-1/2″
It will be in the exhibition book for the Landscape, Architecture and Seascape 2011 show!!