Recently my friend MA sent me some info about painter Abbey Ryan, and I watched a video of her painting. She finishes one painting every day and then sells it for big $ on eBay. It looks so easy.
MA owns these cute little metal birds. She loves these guys, and I understand why!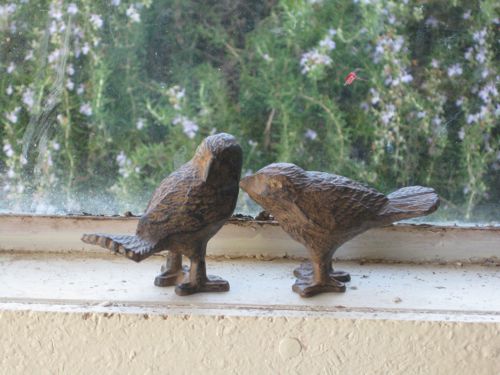 She asked me to paint one for her on a 6×6″ canvas. I photographed them a bunch of different ways, this angle, that angle, 2 together in different poses, light on this side, light on that side, this one alone, that one alone. Then I deleted the ones that weren't as appealing, cropped the 4 best ones to a square format, emailed her, and let her choose. She asked for one more angle, so I photographed it that way and sent her favorite along with the new one. She chose the first favorite.
I began mixing the colors while looking at the actual birds. The sun was so bright that I was sure I was getting the colors perfect! Mixing colors is so much fun, and it is sort of magical because of starting out with only 2 blues, 2 reds, a yellow and white.
Finally, it was time to paint. I couldn't get the angle of light on the bird the way it was in the photo, and the light was too bright to see my computer screen photo well. I moved things all over my work area, and finally decided to just begin. I figured I could try getting MA's bird finished in one sitting a la Abbey Ryan. I figured wrong. The brush is still not a pencil, no matter how much I practice. Finally I realized that the paint was just smearing around, messing up the colors, and no more progress would be made until it dried. Here is how the little bird looks after one painting session: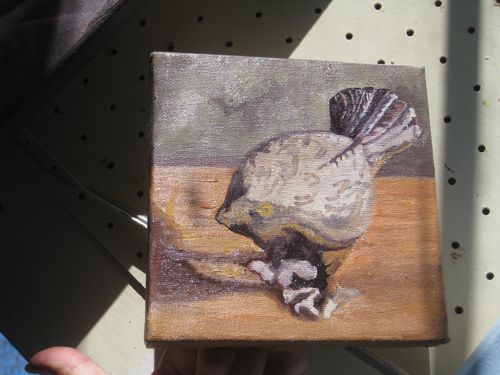 Good start, messed up feet, paint all over my hands from holding the canvas!