Having just finished another weekend show and sale, I've been thinking about the truism "presentation is everything". During set-up, I was done quickly so I had time to help Ginny Wilson, photographer extraordinaire. She brings so much inventory to shows that it takes 2 vehicles to transport all her support materials and the merchandise. Together, we hauled tables, scooted display screens, unpacked boxes, and constantly discussed which pieces should go where – both the display pieces and the photographs. There was a great deal of adjusting and stepping back to survey the scene from a visitor's point of view. Her space looked bright and inviting, and a side effect was that I brought lights for my own area the next day.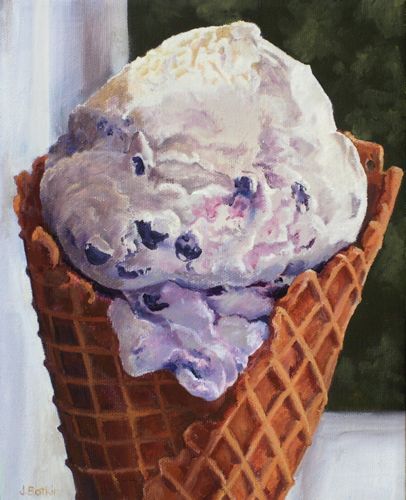 On Friday, my fellow artisans told me that they had been studying my work and decided the ice cream cone (called "Worth It!") was in the wrong frame AND should be displayed at "lickable" height! I pulled it from the frame and replaced it with the wreath painting. BOOM, the wreath sold!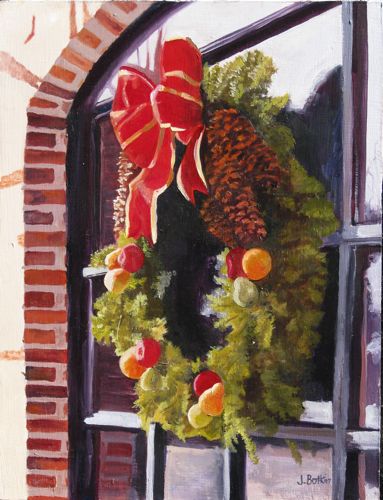 On Saturday, I rearranged my paintings. This time, instead of isolating the bright little fruit/vegetable/leaf squares onto one screen, I clustered them in groups and used them to surround some of the scenery. This is how it looked partway through the day: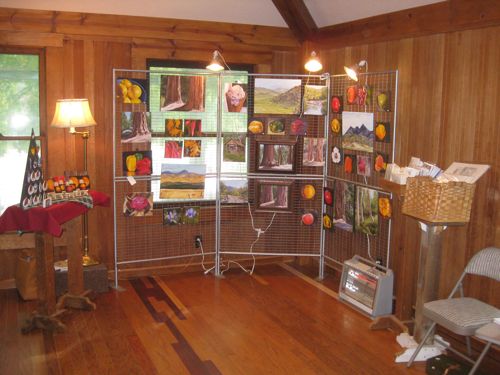 Those bright little squares began selling themselves. I rearranged several times, trying different groupings. My hope, of course, was to sell scenery AND little squares, but sales are sales. If people want those little pieces of fruit, I want them to have those little pieces of fruit. There is no photo at the end of the day because I hadn't planned on writing this post and the screens looked too bare to bother photographing. Bottom line: presentation is everything. There is no One Right Way, but there is definitely something to that arranging thing that causes people to notice and be drawn in.