Each day on this mural my energy fades around 12:30 or 1. Sometimes it even weakens just before noon, but I think that is fear of the noon siren/whistle, which can just flatten a person standing in my alley. I'm always grateful when I happen to be standing on the ground with both hands free to slam over my ears when it goes. (Hard to predict, because today my phone said 12:04 when it went.) Today, I was getting acquainted with a man who has had a remarkable life so far, and he talked me through that low-energy time of day (with a momentary pause while we both stood with our hands over our ears.) If you are reading this, CK, thank you! In order to stay productive for the fullest amount of time, I moved to the east end of the wall and sat on the ground to work on that bottom strip under the mural. It wasn't cool down there, but it was certainly cooler than the higher places or the west end. Good technique – if I were my boss, I'd give me a bonus for such ingenuity! Oh. I am my boss. I'll have to look into that!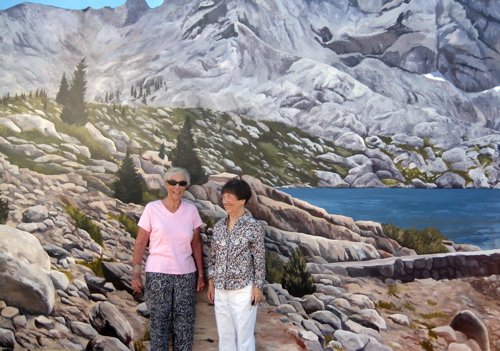 Look! Lois and Markita are at Franklin Lake, and they aren't even tired! Wait, they haven't ever been to Mineral King. . . hmmm, how could this be??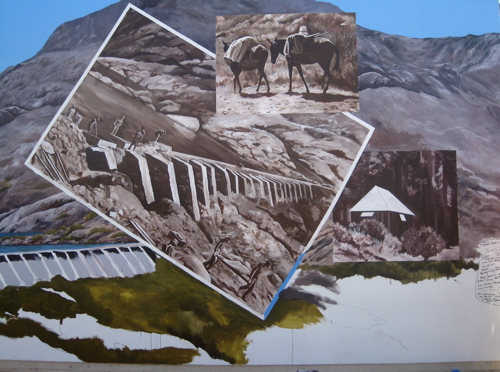 Would you believe that the last quarter of the dam inset took the bulk of the day?? I was disgusted with myself for an inability to paint little men correctly. Never mind that they look like miniature blobs in the photo – I am a professional! However, my business is called cabinart, not "Little Man Painter". You should have seen my astonishing speed and accuracy in rendering the little Mt. Whitney Power Company cabin – perhaps another bonus is in order.