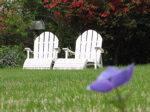 You have probably heard it said that inside each fat person is a thin one screaming to be set free. 

I am the converse of that statement.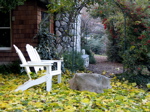 Don't think that I think I am thin; I'm not, but I'm certainly not obese.(or "obeast" as I heard an acquaintance once pronounce it. I'm guessing she isn't much of a reader.)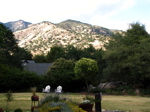 However, each day as I march out the door to take a power walk (4-8 miles at a 15 minute mile pace), I am leaving coffee, a comfortable armchair, the woodstove in the winter, knitting, my Bible, a library book or two, my cats, and many other lovely sedentary preoccupations.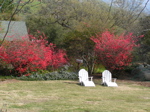 Each day as I resolutely march out to my studio to paint, draw, plan, return phone calls or any other task necessary to keeping my business going, I pass numerous Adirondack chairs strategically placed around my yard for the purpose of taunting me.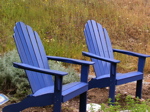 They call out, they whisper, they cajole, they plead.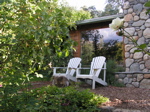 What are they saying? "Sit and knit!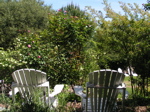 Enjoy life from a stationary viewpoint!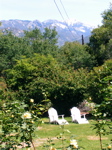 Relax!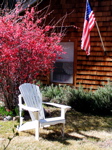 LEAVE THE INNER FAT GIRL ALONE!"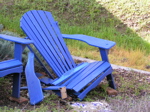 One time I finally sat down and this is what happened to the chair.  A girl could get a fat complex. . .